This is a sponsored conversation written by me on behalf of Diaper Genie. The opinions and text are all mine.
Becoming a new mommy is hard enough when it comes to readjusting your life. Finding your perfect feeding and sleeping schedule, finding time to shower and brush your teeth, and even finding time to just sit down and relax and enjoy your sweet baby. One of the last things you need to worry about is not having something you didn't think you needed at the time – but come to find out – your life would be WAY easier if you had it!
So what is my number one item?
So, I have to tell you a story about this. We had received one of these at our baby shower when we were pregnant with Braydon. We were first time parents and I was taking all the advice from parents (clients of mine at the time) that I could get. I had one client tell me that we didn't need a Diaper Genie to return it and get something else we needed, so stupidly I did. Ya'll – TAKE MY ADVICE! You need a Diaper Genie!! It took about a week of us running outside to throw away stinky diapers and we were back at Target getting another one. I have NO CLUE what that lady was thinking, but who has time to run outside to throw out every stinky diaper you get? Not me! I will never have a baby without a Diaper Genie again as well as its one of the first things I recommend to new moms!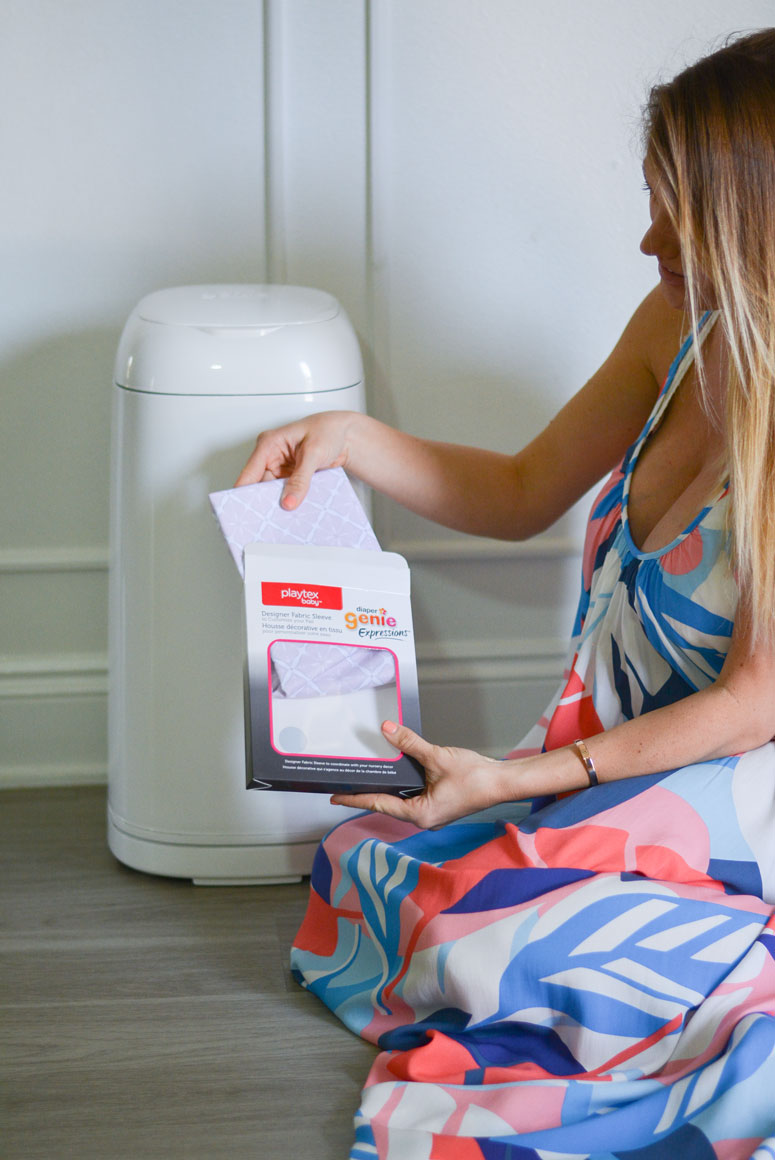 I was looking at my box of our new Diaper Genie we just got and noticed they also now have fabric covers to style your Diaper Genie closer to your nursery colors!! I loved that idea instead of the solid white this time so I decided to order the Pink Starburst pattern to go with our baby girls nursery! It just added a little bit of color and warmth to make it fit more softly into the nursery!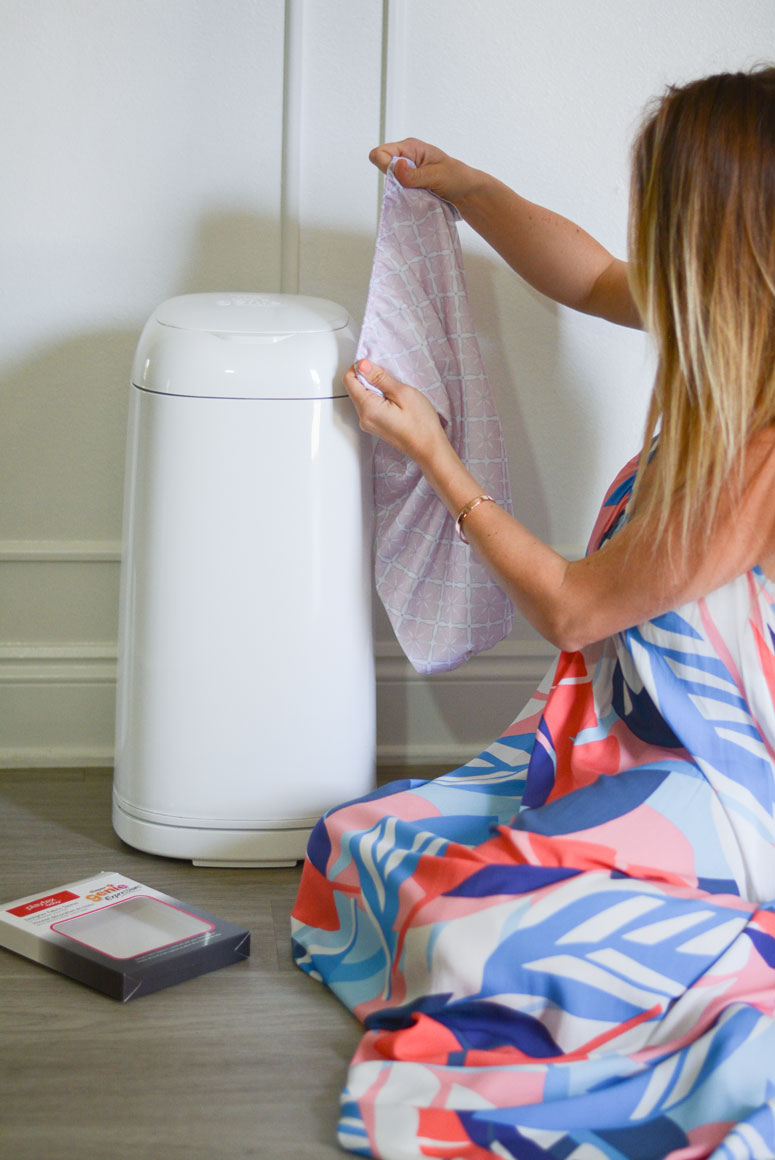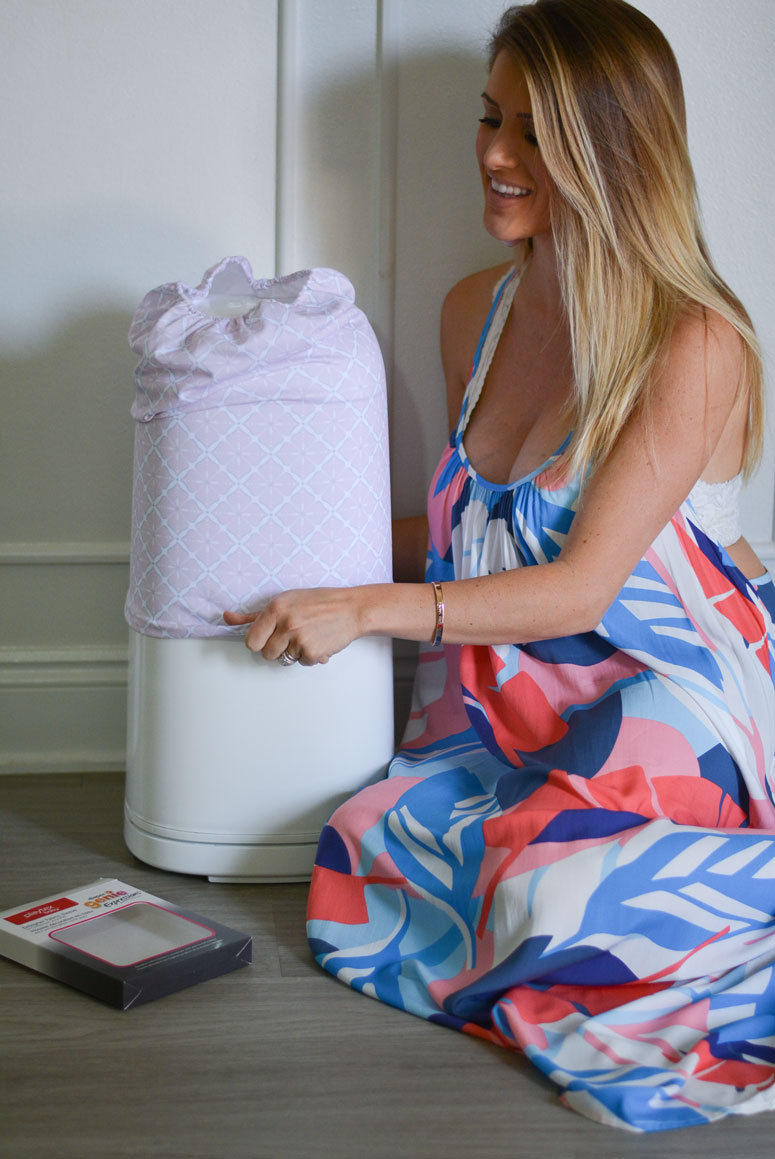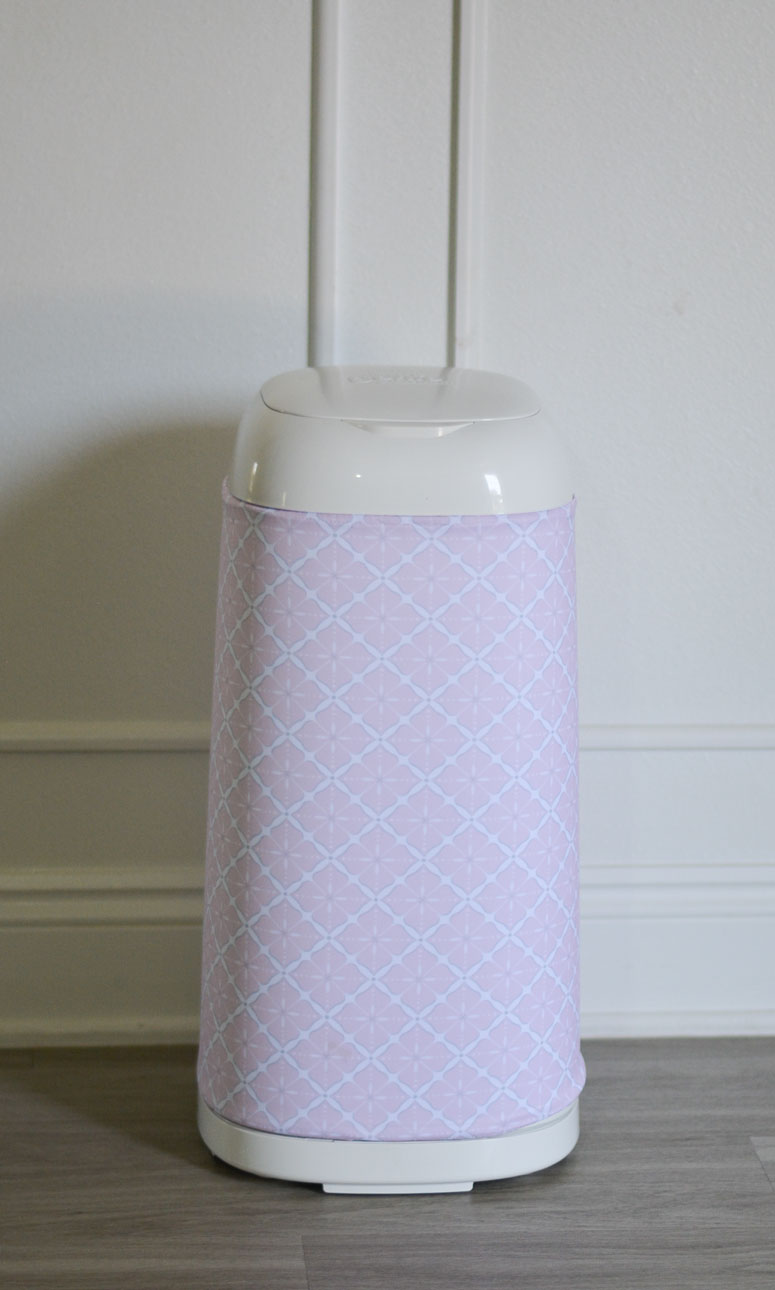 Whats next?
About 25 swaddles!
We would go through one – two a night with Walker and 3-4 a night with Braydon (he was a projectile 'spitter-upper'). Then through out the day they end up becoming burp cloths and everything else bc they are what you have on hand! I also like to keep 3 in my diaper bag at all times for when we are out to eat or running errands! You never know when you are going to have to swaddle that baby up to take a good nap and sleep in the stroller! It will feel like you will always be doing laundry, and you will. But one less thing to avoid rushing through a wash cycle for the better.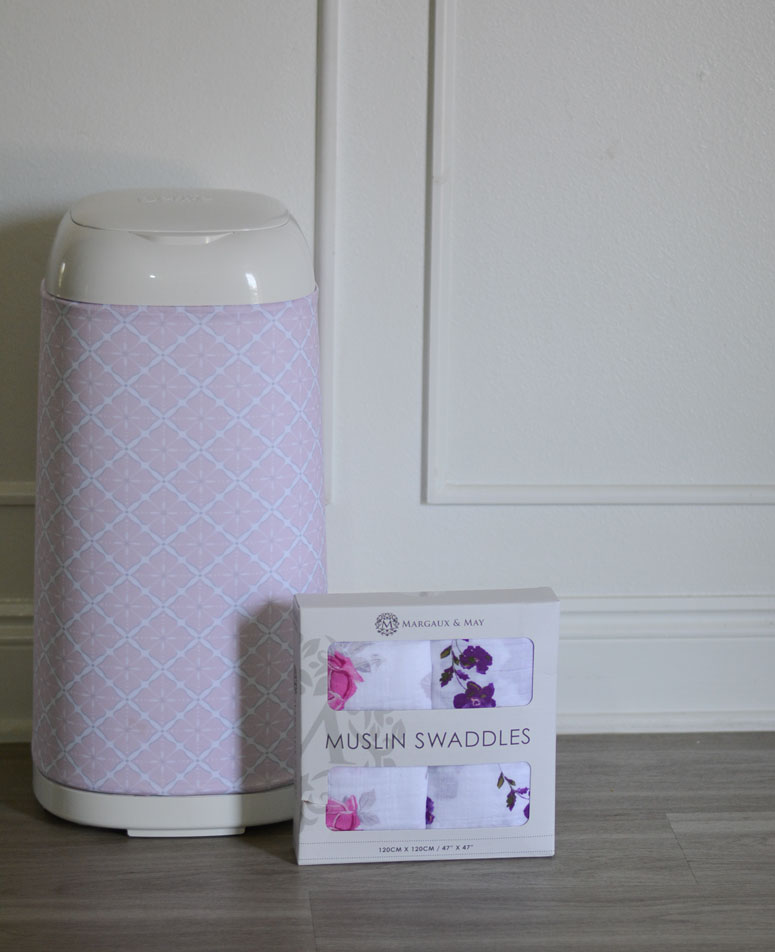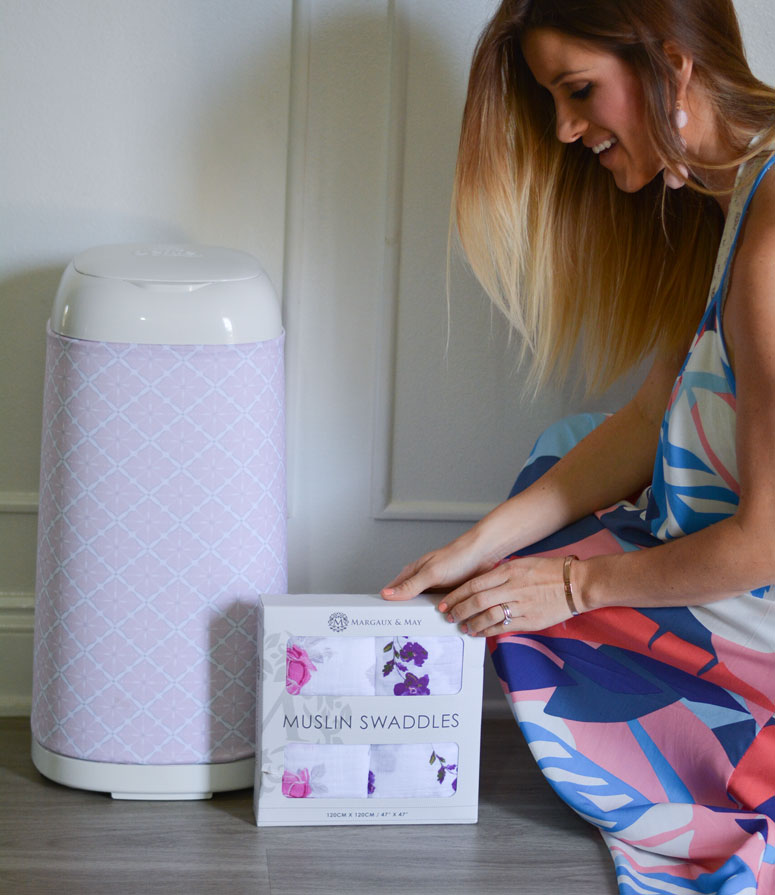 Along with the 25 swaddles I also recommend lots and lots of bibs. If your kids will wear a bib – it will save many, many onesies and outfits. Walker refused to wear a bib and would try to pull them all off every time we put them on but Braydon didn't mind wearing them. So if your babes will wear them – stock up and have one to two for every meal, especially if its messy! These are also great for if your babe likes to spit up after meals as well as when they are teething and drooling!!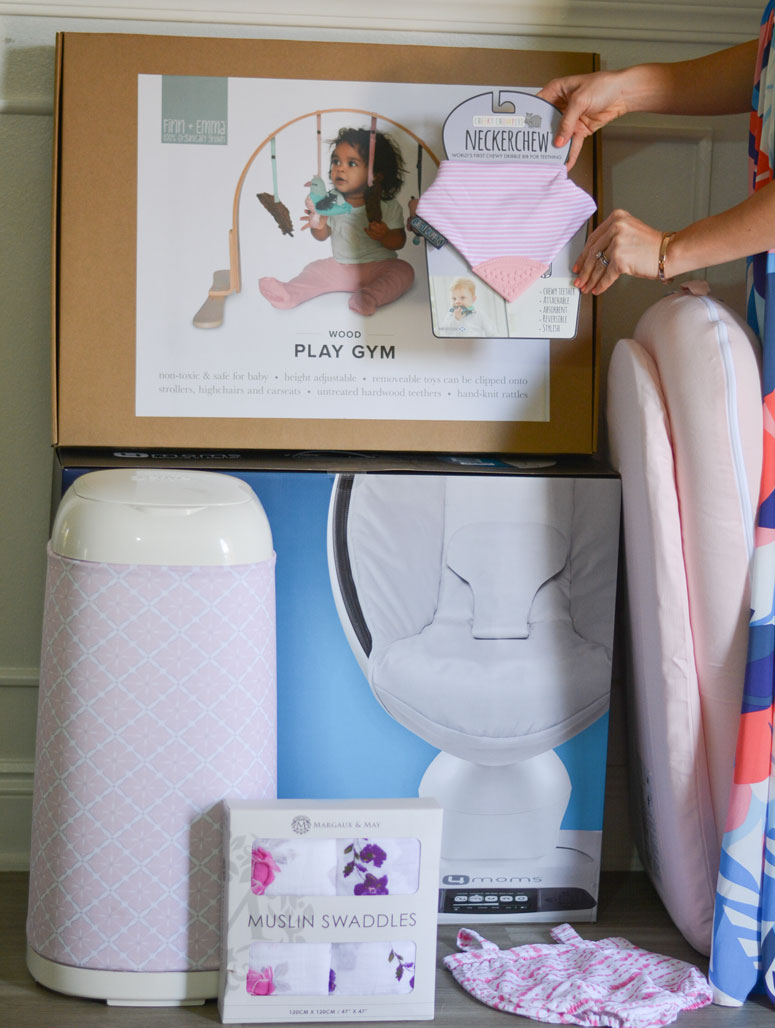 It seems silly but a play gym that doesn't move is so important when they are at a young age! Babies are easily stimulated and even easier, they are over stimulated. I like the mobiles and play gyms that are still but have lots of colors for when our kids are under 4 months old. It is just enough to let them watch, stretch and get the stimulation they need without going over bored. Once they are older it becomes a fun toy for them to play with too!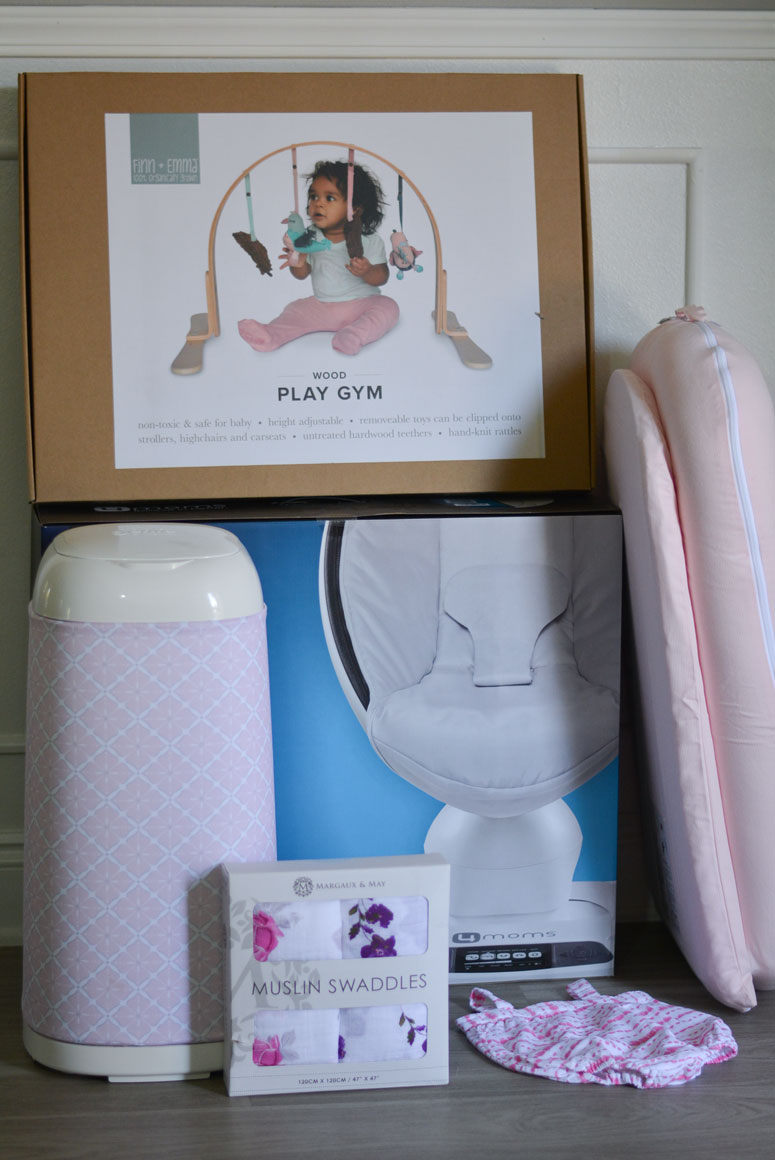 So this next item not something you typically think of but you really need a portable bed. And I am not talking about your pack and play or basinet that is hard to lug around or fit through doorways. I prefer to have a small bed I can move into the bathroom with me when I am getting ready, lay on the couch beside me if I am working or watching t.v. (not that I ever have time to watch t.v.), or even sitting out on our back patio in the shade. Having something lightweight and easy to tote around is SO nice. Also, these are great if you are going to your girlfriends house for dinner or something and want to have a place to lay baby that you know is pet hair free and clean!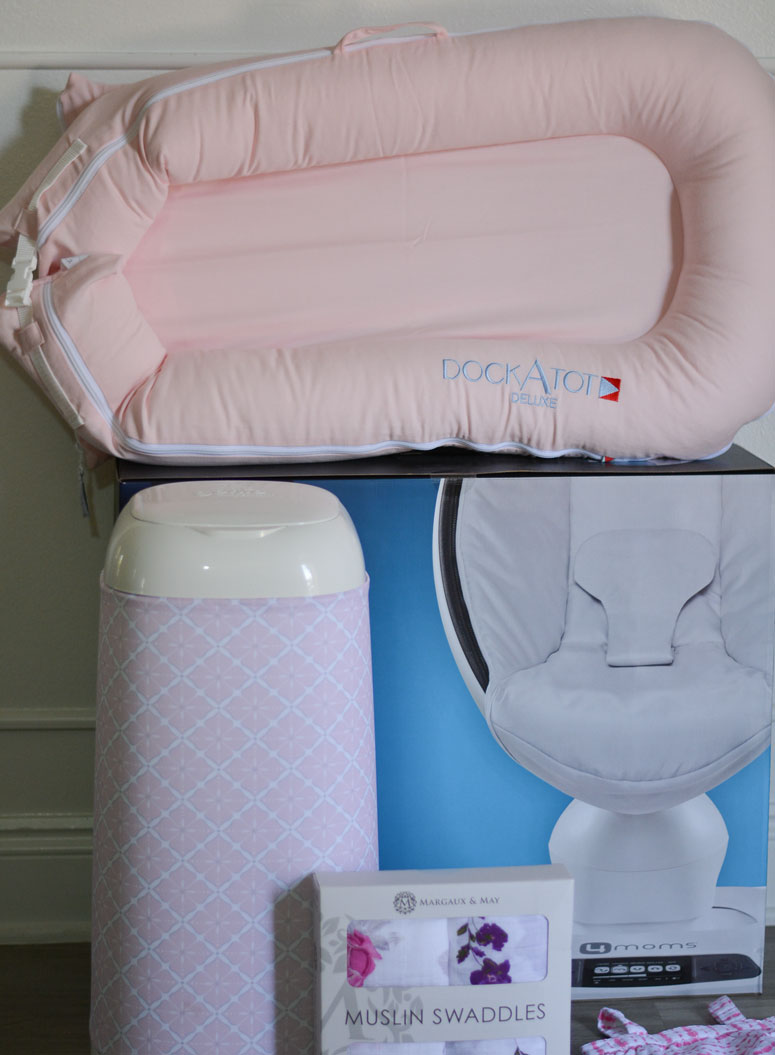 Our Walker was so content to lay flat and be swaddled or kick his legs around. I partially blame/thank the NICU for this because he was lying flat the first two weeks of his life and couldn't be held. Braydon however was spoiled from the moment he came out of the womb (first baby syndrome. haha) so he loved to be moving at ALL times. For babes that love to be in constant motion make sure you have a mamaRoo or something that moves if you ever want to be able to load and unload the dishwasher in silence!!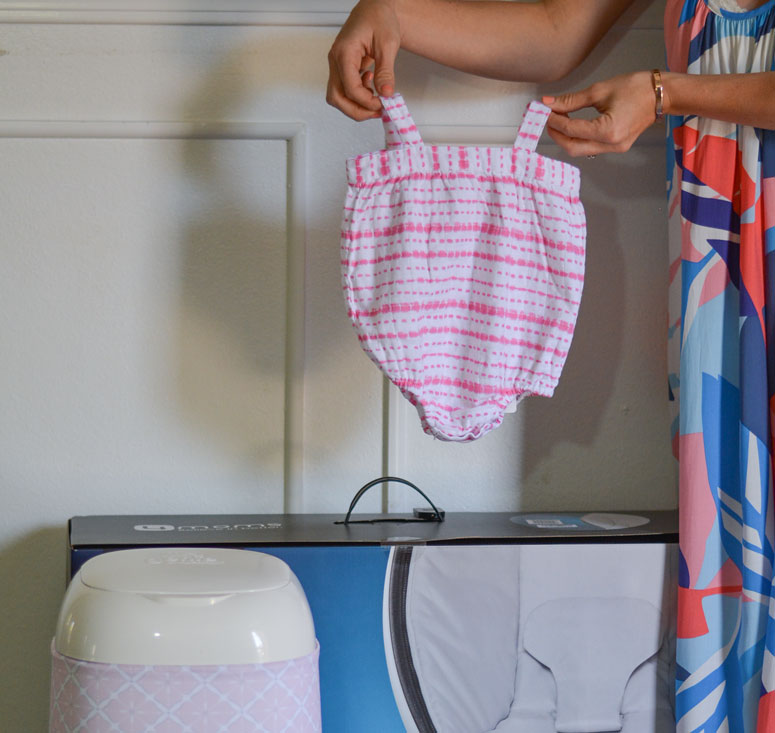 Last but surely not least is more outfits than you think! I only took a picture of one because there is no need to photograph the 100 pieces of clothes this baby girl already owns, I know you guys will see plenty of them once she is born. But I can't tell you how many outfits a day you go through when they are little. Leaky diapers, spit up, you name it- it gets on that baby! And you have to change her! Plus, since this is our first girl. I am also pretty excited to play dress up with her!! Bring on the bubble rompers and bows!!