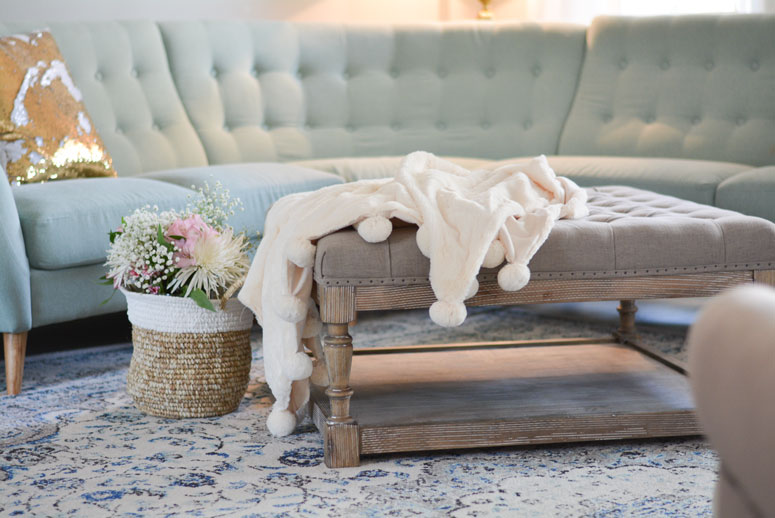 You guys, I am beyond excited to finally be able to reveal our full living room make over! I know I have posted a few teasers on instagram as well as snapchat and insta stories but I am so glad to finally be able to share the entire thing with you all!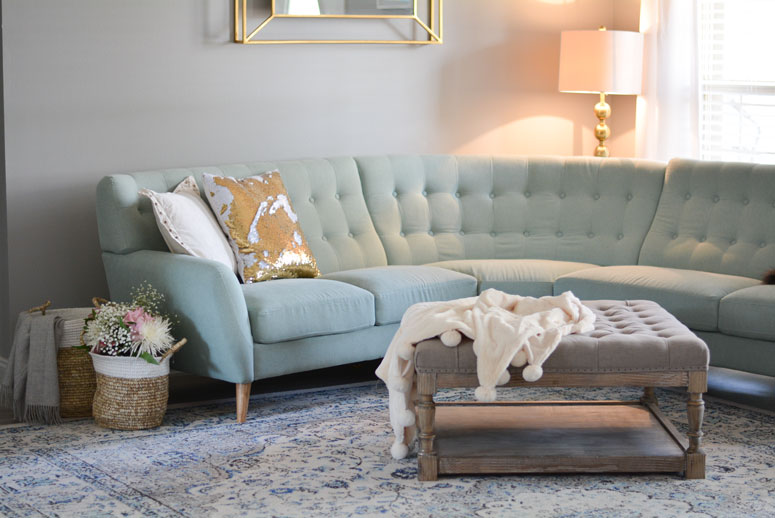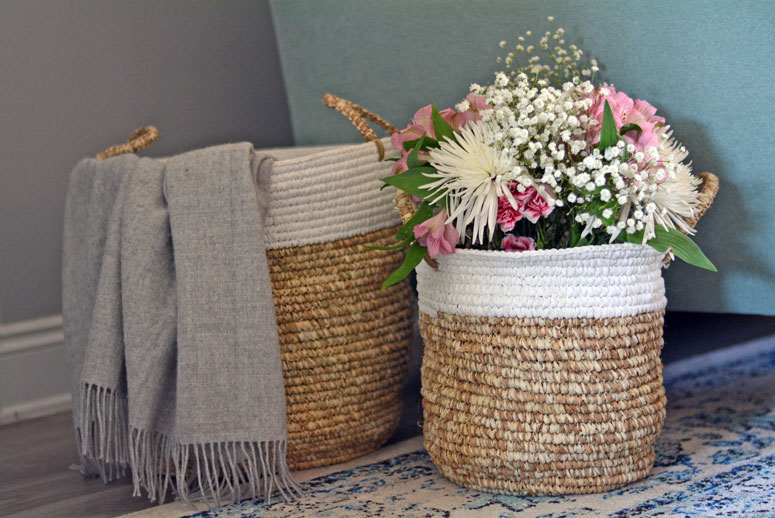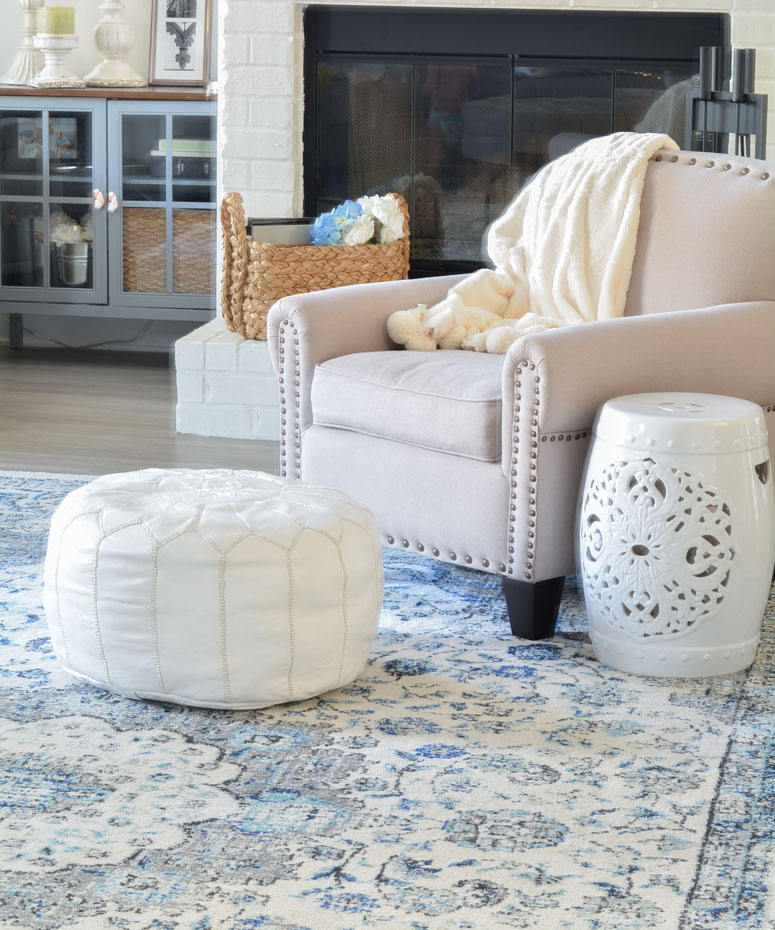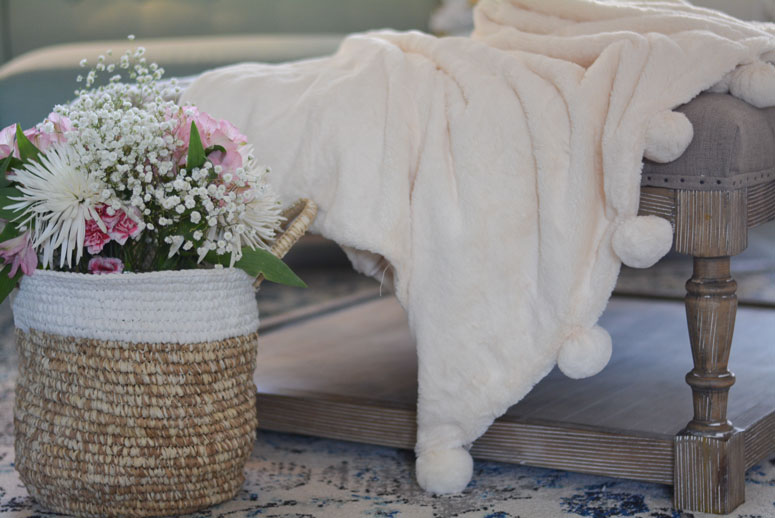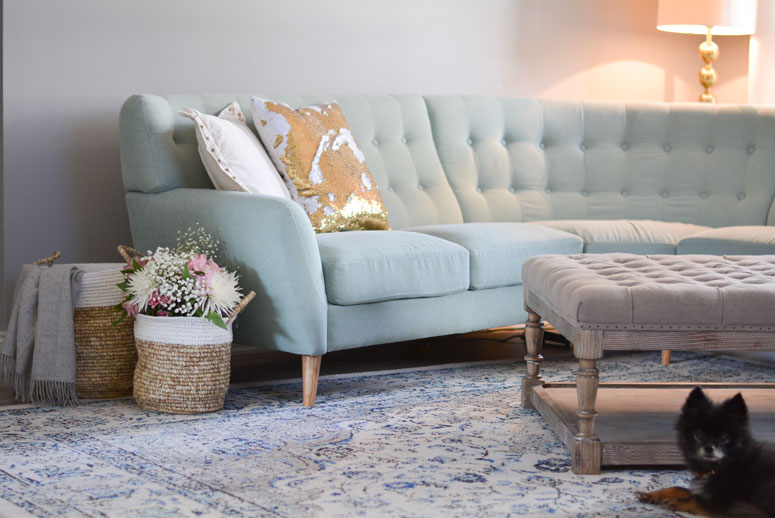 When we were picking out pieces for our living room we wanted to keep a few things in mind. For one is – we are a family with soon to be three children (two of which are wild boys). We are not a children-less couple that can have sharp edges on our coffee table, and no place for us to throw toys in quickly for a rapid pick up before company comes over. We wanted it to be beautiful and chic, but we needed it to be practical and family friendly.
When we were trying to first pick out the 'vibe' we wanted people to feel when they walked into our home (our front door leads right into our living room) we wanted them to feel at home and comfortable, and we wanted it to have a understated beach-chic feel. The living room is the first room our guest see when they come to visit. The beach-chic lifestyle we wanted our guest to enter is where our color scheme came in. We chose to go with all shades of blue, gray, ivory and touches of gold to add a little extra glam.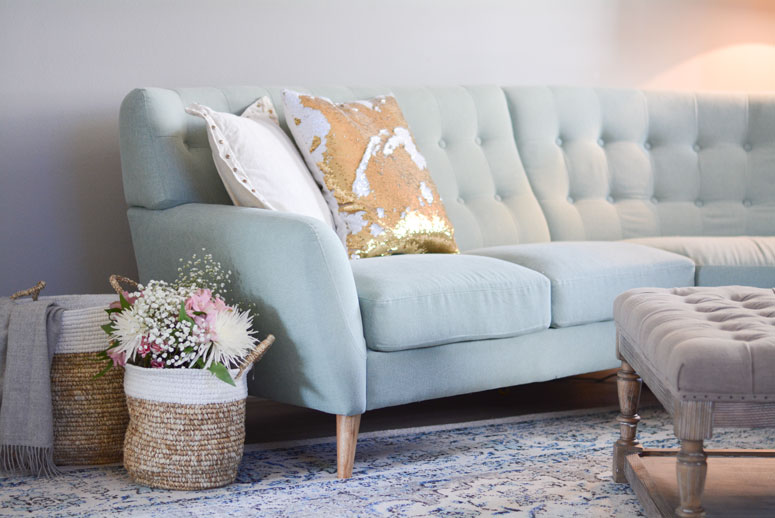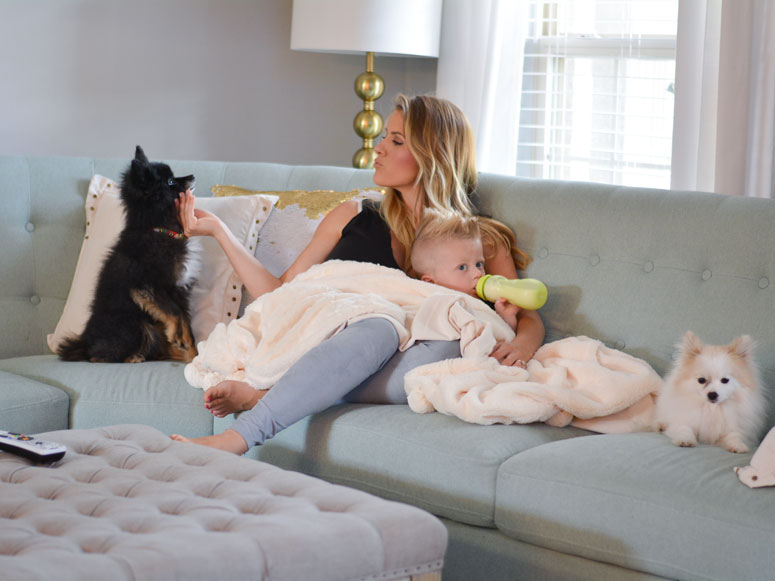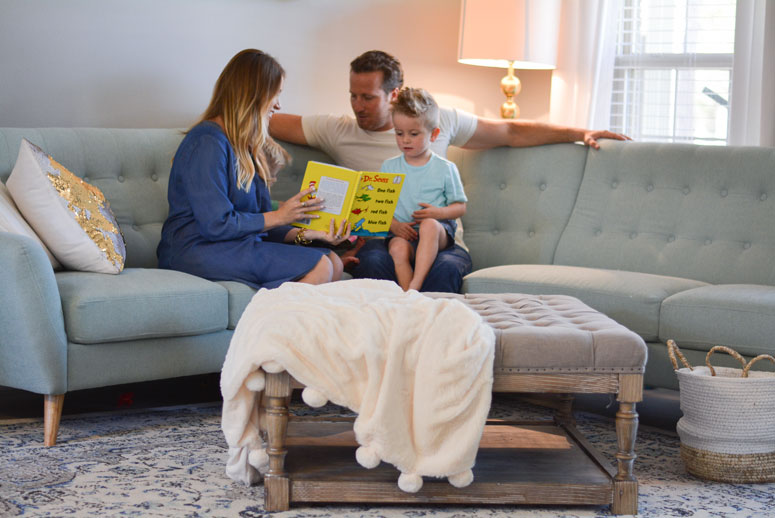 When picking out the couch, I first looked for style and color (ya'll, this color is even better in person by the way!) When our couch arrived, and as soon as Ryan pulled the first piece out of the box I squealed "yay, my dream couch!"
After narrowing down the color and style, we went for size and shape! Our living room is very open and we wanted it to stay that way. We didn't want a couch that was going to close it off or make it feel smaller. That being said, we need a BIG couch. We are about to be a family of 5 and we like to have people over and entertain! This couch will easily sit 7 to 8 people on it without being crowded! It does come in smaller sizes if you needed it.
For the tufted ottoman, we knew we either wanted a square or round shape to go with the shape of the couch and we knew it couldn't have and sharp corners for the boys to run into! We chose this ottoman and loved it even more in person. The wood on the bottom gives me enough structure to where I don't feel like we are living on all cushions, and having the top upholstered and tufted top feels great when we kick our feet up at the end of the day. When they boys want to have a snack in front of the TV I just pull out a tray and place it on the ottoman to avoid any spills!
Mom tip: I have been able to get any spot off of both the ottoman and couch with baby wipes! They have both been extremely easy to keep clean!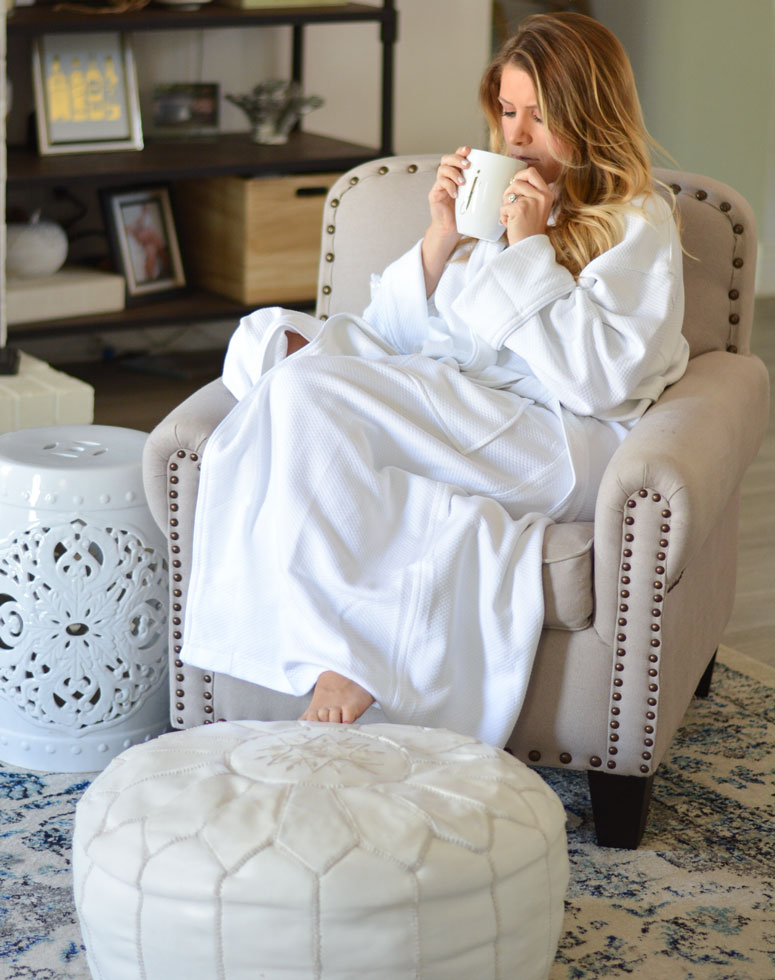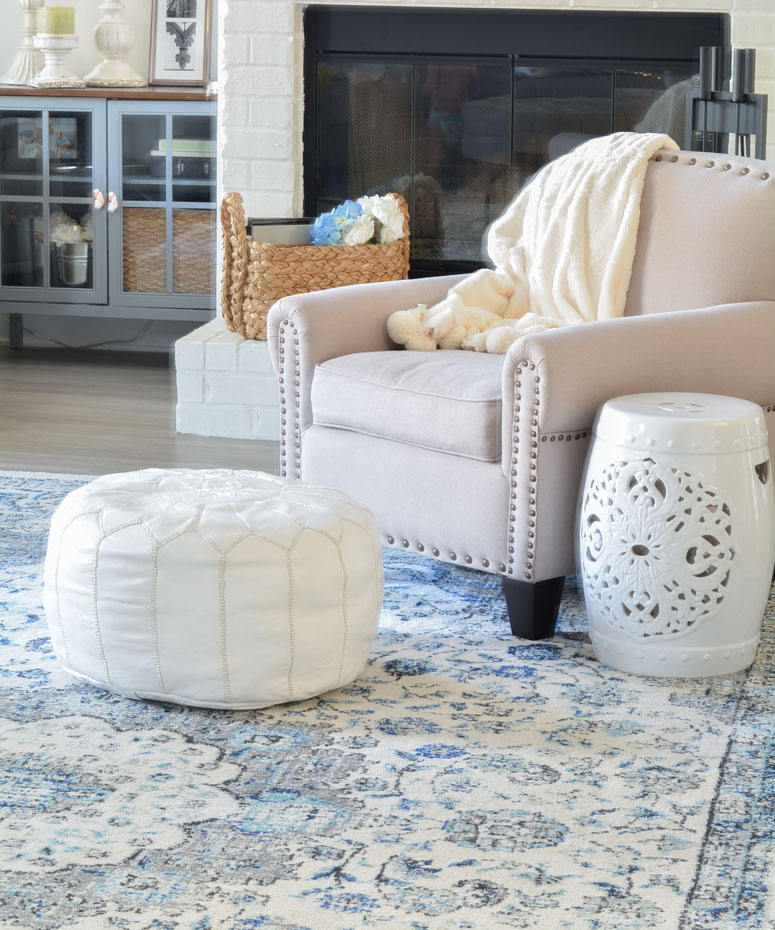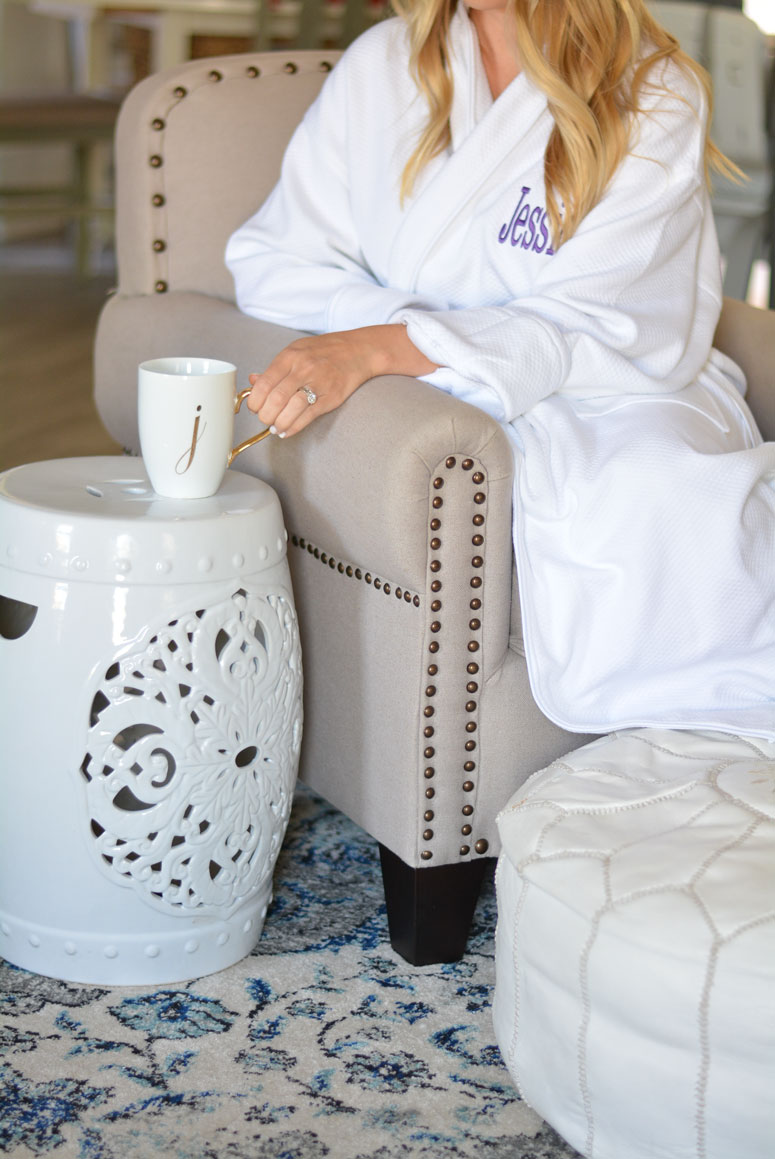 When it came to picking other pieces for our living room we decided we wanted to have another chair for when we had company or for when Ryan wanted to be able to pull his chair front and center for any major sporting events he wanted to watch on tv! It has also become my favorite place to start my days while I am having my coffee and skimming quickly through all of my social media and emails before I start the day. I was a little nervous about picking this white ottoman with kids, but I have been amazed with out easily it wipes clean with just a damp paper towel!
The garden stool I fell in love with has brought some outdoor vibes into the house and I absolutely love it! I also love how easy it is to move around wherever we need it at the time, and it is SO easy to keep clean! For the first few days, I have to admit, Walker enjoyed sticking his fruit snacks and small toys in the holes on the top and we thought "oh boy, this is going to be an issue" but he was over it within 2 to 3 days and hasn't tried it again since!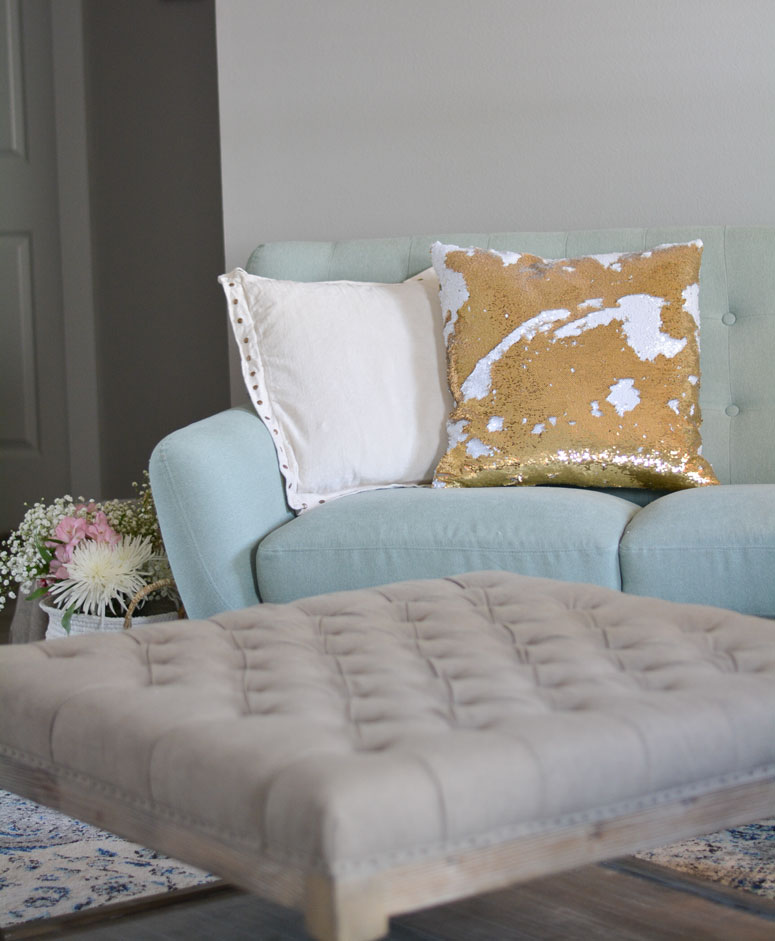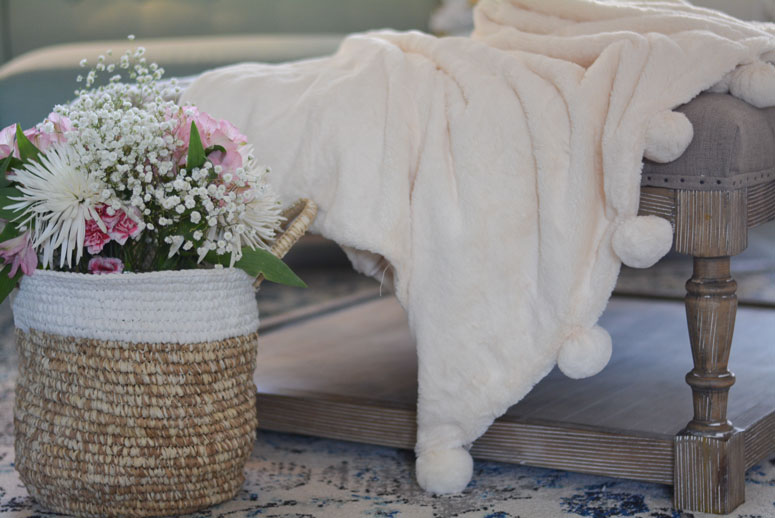 For our pillows I wanted glam and of course my husband and boys want comfort and softness so I decided please everyone with the pillows – including myself, haha. The gold sequin pillows were my fun, glam touch on the couch and the boys actually love playing with the sequins as they are reversible to turn the pillow white or gold and to make designs on. They sit there and don't even realize they are moving the sequins back and forth while they watch their morning cartoons.
The blanket is so soft and I loved the pom details! I chose to go with softer pillows too for the boys to lay on, but the nail head border keeps them stylish and helps them match our accent chair too!
The baskets were honestly one of the most practical and convenient pieces we picked out! They have become toy bins, places to throw extra blankets and even a hide and seek spot for Walker on occasion! They are soft, light and flexible which makes them easy to use anywhere and for just about anything!
To bring in more of the gold and glam feel I was looking for, I also chose gold accessories to accompany the gold pillows. This stacked ball floor lamp and rectangular gold framed mirror were easy picks as I knew they were classic pieces that will last for years to come and will be easy to match with most any decor!!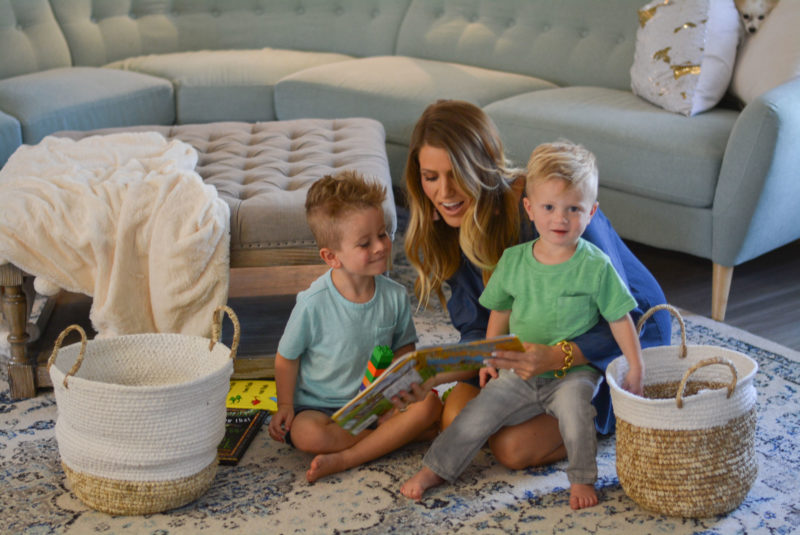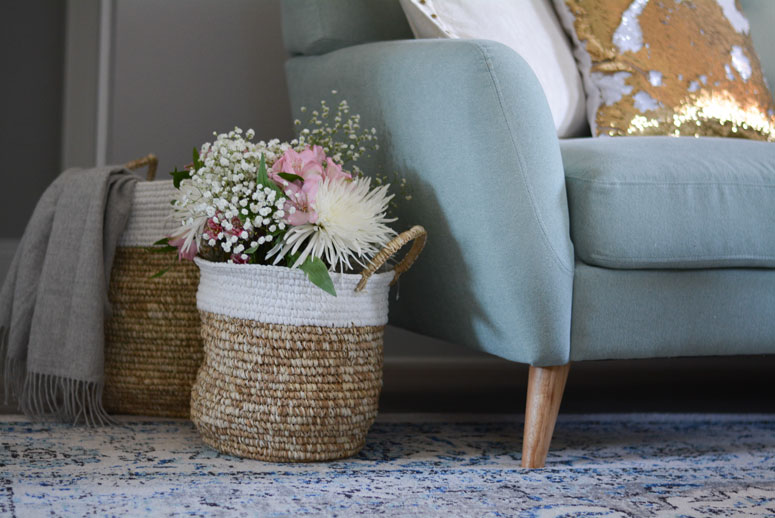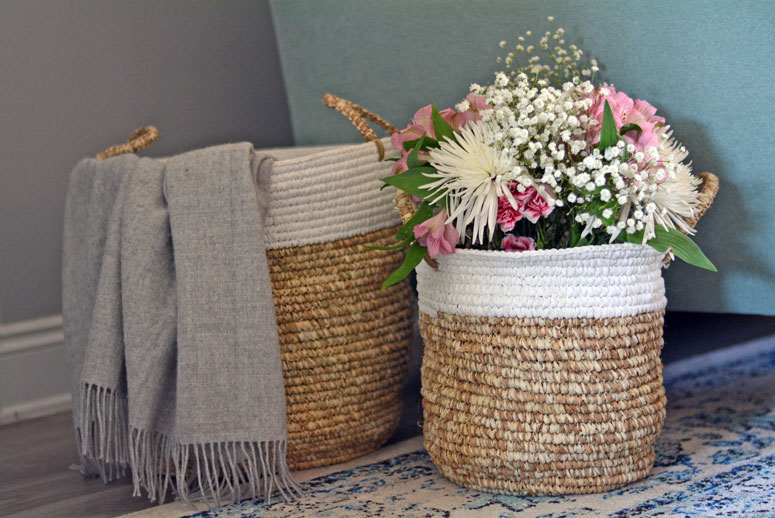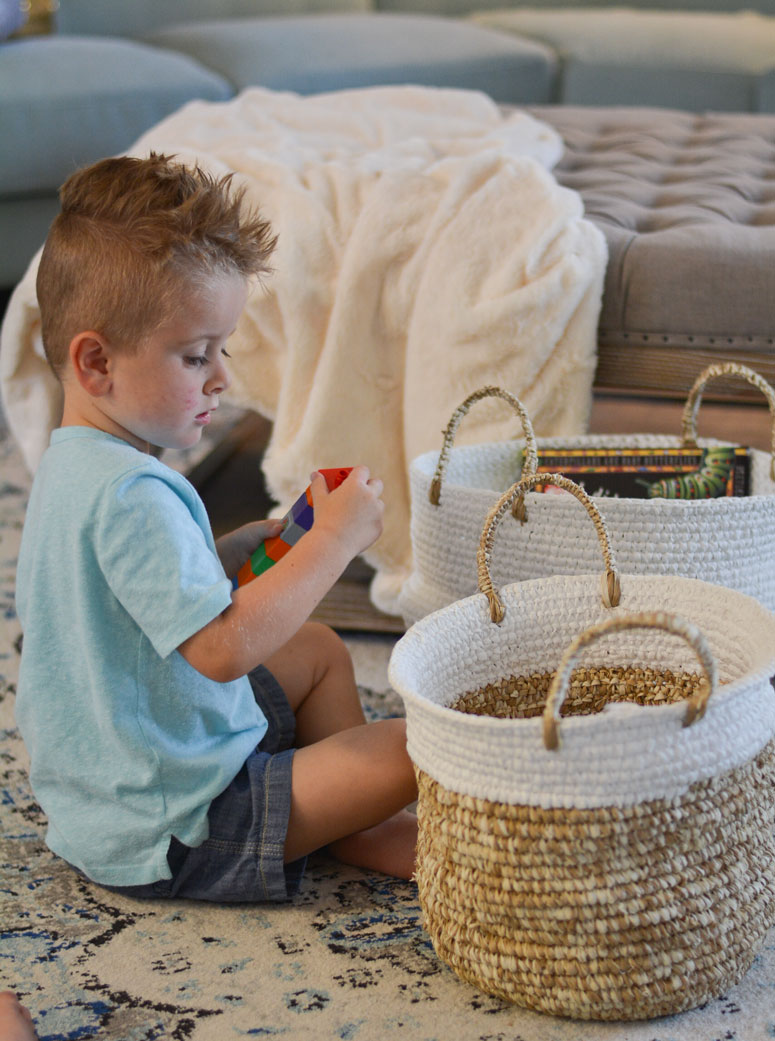 Last, but definitely not least, is our rug. Y'all it is HUGE and I LOVE it! When we got it in I thought "Oh my gosh, maybe I didn't measure correctly but, thankfully I did and it is perfect. We wanted something that didn't just go under the couch and coffee table/ottoman because we wanted the boys to be able to lay on the floor, play on the floor, and when Charli arrives and is crawling – crawl on the floor. This rug has been so easy to clean and hasn't shown any dirt on it at all! I really have to remind myself to vacuum because you can't see anything on it – it's amazing!
To shop our living room you can go up to the top of my blog and click Shop >> Our Living Room or you can find all of the links below!
Couch | Chair | Square Ottoman | Round Leather Ottoman | Garden Stool | Rug | Baskets | Nail Head Pillows | Sequin Pillows | Pom Pom Throw | Lamp | Mirror |
A HUGE thank you to Overstock for sponsoring this post! All opinions are 100% my own.
Contributing brands include Safavieh | RenWil | Mid – Century Living | Imax | I Love Living | Aurora Home | Thro by Marlo Lorenz | Rizzy Home |