Our FIRST giveaway here at Lipstick, Heels & a Baby is from Thad and Louise Boutique, a cute little locally owned boutique in my hometown!

=&0=& "

Thad & Louise are the grandparents of Christy Creson. They both passed away in their early 30′s leaving behind 3 children. While Louise was battling melanoma cancer, Thad died of a heart attack. Six months later Louise lost her battle and joined him in heaven. They both use to model for high end fashion shoots and were considered socialites of Winston-Salem. Some of their fashion photo's can be found through out the store."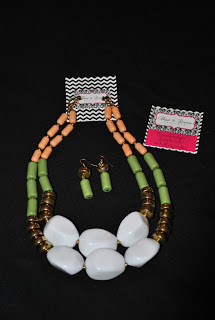 Our giveaway is this adorable statement necklace, and 20% off a purchase at Thad and Louise. If you do not live in NC it is OKAY!!! You can order from their
website
if you win, and if you don't win this time, still be sure to check out their adorable stuff!!!
To be entered in to drawing you must:
Join Lipstick, Heels & a Baby (Towards the top in the right column)
For 1 additional entry you must:
Follow Lipstick, Heels & a Baby on instagram (BRAYDONFAYSMOMMA), pinterest (Jessica Fay) and bloglovin
Follow Thad and Louise on instagram (thadandlouise)
For a 3rd Entry
Share this giveaway on your facebook or twitter page
Leave a Comment after each step is complete! 🙂
Make sure you leave your comment below..I have gotten a few emails on entries but I need you to post beneath to make it a fair shot for everyone!
Winner will be announced Friday Feb. 8
Feel free to leave a comment on Thad and Louise's facebook page for suggestion's for another giveaway from their website!!!