Black Friday can be a little overwhelming to the point sometimes you wonder if it is even worth it. I can't tell you how many years at the end of the day I look back at all my email receipts that I got in and thought – soooo what did I even get and why do I still have a list of gifts I need to buy for friends and family??
Plus – there are a few Black Friday sales that have already started and I listed them down at the bottom of the post!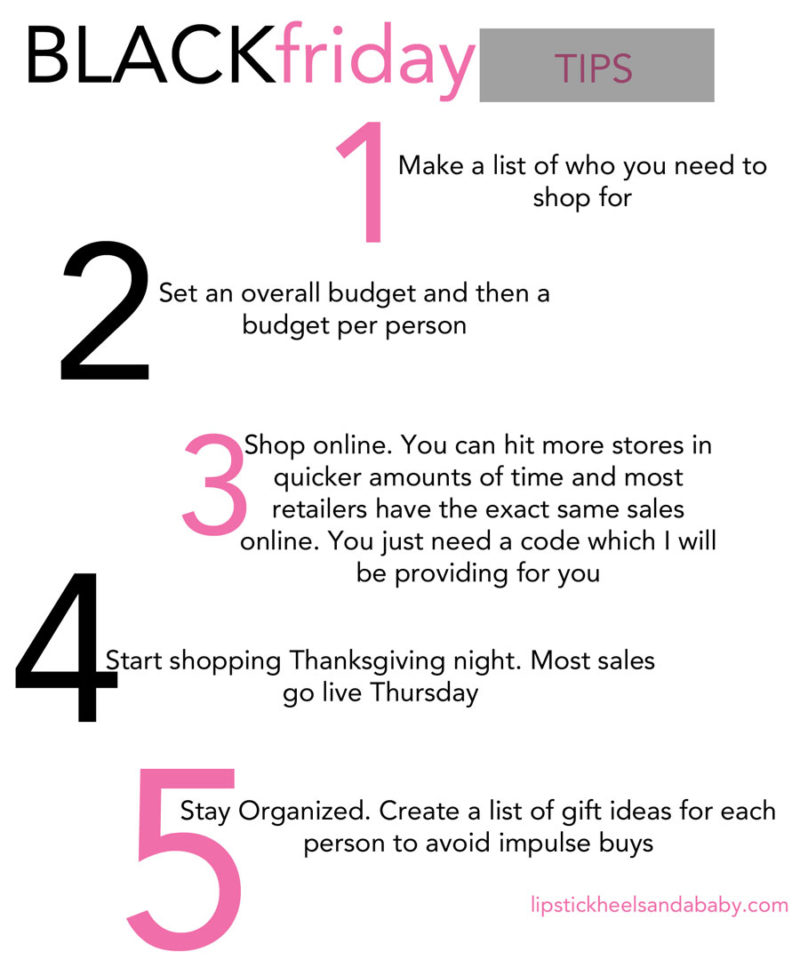 Make a list of who you need to shop for. Seems easy enough but you would be surprised how many times I forgot someone. Including your friends that are throwing the Ugly Sweater Christmas Party this year. Yep – hostess gifts too! What does my shopping list look like this year?

Braydon, Walker and Charli
Ryan
Teddy and Ella (dogs)
Uncle Tate, Lance, and aunt Kelly
Their significant others
Nana and Pappa
Gigi
Nieces and Nephews
Secret Santa
Girlfriends
Hostess for parties
We have a wedding on New Years Eve so this is a great time to go ahead and get those gifts you would be buying soon anyways!

Set an overall budget you would like to spend as well as a budget per person. That way you can manage your expenses while shopping so you are sure to stay at or below budget!!
Black Friday shopping may be a thrill for some – but for me it is a little overwhelming and extremely exhausting. That is why I prefer to shop at home on my couch in my pjs with a cup of coffee while the kids watch Christmas movies. I can hit 5 stores online in the same amount of time I hit one store in person AND I can compare sales and prices so much easier!
So not only are some of the sales ALREADY live – but even more go live on Thanksgiving day!! Very few do not go live until Friday anymore! Check back here on Thursday for sales that have already started and scroll down to see some that are live right NOW!!
To help stay on budget make a list of what each person needs or wants. For example:

Braydon: Wants: Legos, movies, the new Mario game system that I have no clue what its called and I am leaving that up to Ryan (<<goodluck babe!!) Needs: Jeans and a jacket
Walker: Wants: Duplos, anything batman or spider man! Needs: Shoes and button up shirts
Charli: Wants: nothing, yet – thankfully! Needs: PJs, socks and sweaters.
Black Friday Sales that are already live (11/21)::
Shop @aeropostale Early Black Friday 50% – 70% Off Everything
DATE: 11/14
UP TO 30% off every.single.thing
DATE: 11/20 – 11/27
Save up to 40% off during the Designer Sale @bergdorfs
DATE: 11/20 – 11/26
Use the exclusive code REWARDSTYLEBF to gain early access to 25% Off Finish Line's Black Friday Deals! Ends 11/22 at midnight.
DATE: 11/20 – 11/22
CODE: REWARDSTYLEBF
FitFlop Shoes, Sneakers, and Boots Up to 60% off + Extra 20%
DATE: 11/15 – 11/28
CODE: REWARD20
Shop the Black Friday Sale alongside an exclusive offer up to 40% off a new Hunter product every day.
DATE: 11/20 – 11/27
Black Friday Sale: 30% off full price + 10% Off Sale
DATE: 11/21 – 11/26
CODE: NOLINES
 $20 Off $65+
DATE: 11/10 – 11/30
CODE: JINGLE
Shop the Lucky Brand Black Friday Sale – Save 50-60% off & Earn up to 15% commission.
DATE: 11/21
Up to 65% Off Designer Sale!
DATE: 11/20 – 11/27
CODE: 30EXTRA
Early Black Friday Sale! Save 40%- 80% off everything @LastCallNM
DATE: 11/20 – 11/26
30% Off sitewide
DATE: 11/21 – 11/23
CODE: SAMSGIVING
25% Off Saucony Originals
DATE: 11/17 – 11/29
CODE: FAVORITE25
Get started on your holiday shopping with 20% off everything at Serena and Lily
DATE: 11/20 – 11/28
SHOPBOP //
Get 20% off orders of $200 + .25% off orders of $500+ and 30% off orders of $800 or more with code MORE17 at Shopbop!
DATE: 11/21 – 11/26

Black Friday starts early! Enjoy 25% off luxe hair tools
DATE: 11/21 – 11/26
CODE: FRIDAY17
TORY BURCH //
Take 30% off $250 including sale styles
DATE: 11/21 – 11/27
CODE: THANKS
Tune in every day this week for more sales!!!!