Thank you Kiehl's for sponsoring this post. As always all opinions are 100% my own.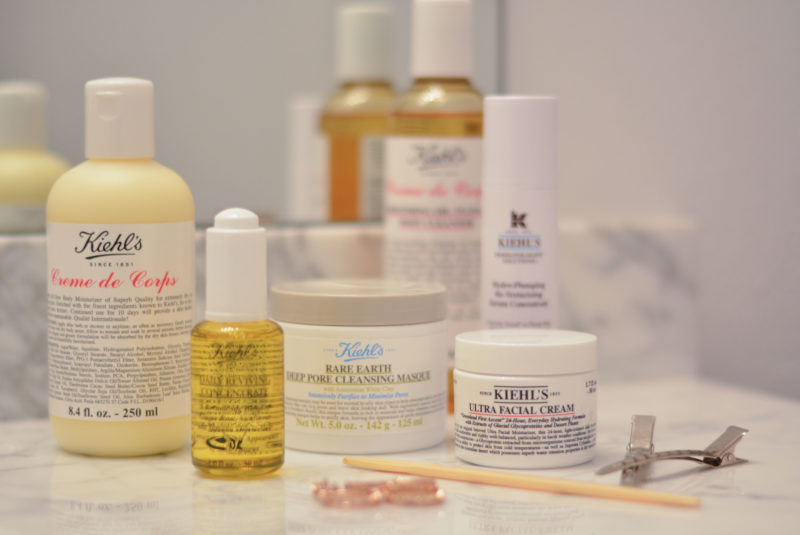 There are a lot of factors that go into great healthy skin; i.e. heredity, sun exposure, free radical and pollution exposure, stress levels and products we use to prevent and avoid these negative exposures and to increase the good parts we already love about our skin. I have to admit – my skin goes through waves on how it feels and looks. Hormones from pregnancy, stress from lack of sleep, and sun exposure from living on the beach, all play a HUGE roll in my skin appearance. That being said, I work with what I have been given and find the products I feel promote the good things about my skin that I want to keep, i.e. – lots of moisture and lack of wrinkles and also products that help correct the things I don't love, my larger pores (from heredity) and dark spots from over sun exposure.
I have used Kiehl's products for years. I had a few random favorites that I loved and would order time and time again but I never really ventured out from my 'favorites,' due to just being a creature of habit. I recently had the opportunity to try their Healthy Skin Routine, and I have to tell you – I have completely changed up my entire day time routine and even part of my night time routine with these products. I mean, even my shower experience has gotten better!!
I am now using the Creme de Corps Smoothing-Oil-To-Foam Body Cleanser in the shower for my body wash. This gentle cleanser contains Castor Oil and lathers up into a mild foam that rinses clean leaving skin feeling supple and moisturized. Lightly scented with decadent notes of vanilla and almond so the smell is perfect for pregnant mama's too since it isn't too strong.
After my showers I have become OBSESSED with the Creme de Corps Body Moisturizer. It is SO thick and creamy but still manages to not leave that sticky and greasy residue that some thick lotions leave behind. It smells fresh without being over-powering, like the body cleanser. It contains antioxidants such as beta-carotene helping to protect your skin from pollutants and toxins in the air. The cocoa butter and sesame oil are what makes your skin so soft – literally my arms and legs drink this stuff and it leaves a gorgeous non greasy sheen to your skin!
For my face I started by actually not using a product at all. I actually use these little facial razors to exfoliate all dead skin cells and to prep my skin to properly accept all of the products I am about to apply. This is a little secret I started doing after Braydon was born and have been doing it for about four and a half years since. I honestly had never received compliments on my skin at all until I started doing this and now I feel like I get them pretty regularly as well as my makeup goes on SO much smoother!
As far as products, I am using first, the Hydro-Plumping Re-Texturizing Serum Concentrate. I focus this product around my smile lines, forehead lines, anywhere that shows signs of aging due to lines or wrinkles. The glycerin in the product helps the skin retain moisture and helps plump the skin.
I follow this with the Daily Reviving Concentrate. This is my facial skins defense agains daily negative exposure it may encounter! It provides antioxidant protection with a powerful blend of naturally-derived oils, such as Ginger Root, Sunflower and Tamanu, to help skin feel fresh and look energized all day long. I use it every morning, after my hydro-plumping serum and before my moisturizer and daily sun protection (which is a lot of the time in my makeup foundation). Avoid your eye area with this product, I focus it on my cheek bones down and on my forehead.
Last but not least I finish it off with Kiehls #1 product, the Ultra Facial Cream as my moisturizer (if you do not wear makeup with sunscreen they also make this with an SPF 30). I love this moisturizer because it isn't greasy but it is SO moisturizing, my skin craves this product. Also, I do not know this from personal experience but apparently this product is adventure tested for extreme weather conditions. So if you are a snowboarder, hiker, etc. This product is perfect for you! (( This product contains "Antarcticine, sourced from Antarctica, is a glycoprotein that helps to hydrate dry skin and provide it with a noticeably smoother appearance while offering superb protection from the damaging effects of free radicals. The cryoprotective (protection against freezing) properties of these glacial proteins help to protect and moisturize skin in extremely cold temperatures by facilitating the retention of natural water reserves."))
Healthy Skin Offer: Enjoy Kiehl's 6-Piece Gift today! Choose your deluxe 5-piece skincare routine and travel bag with your $75+ purchase. BONUS:: On all orders $115+ enjoy a full-size Rare Earth Deep Pore Cleansing Mask. (( Ya'll, this mask is next level!! It is one of my favorites!! ))