Where to Stay::
Our area is taken over by places to stay. That being said – depending on your goals for while you are here, depends on where you want to stay. Do you want to be active and go paddle boarding, bike riding to breakfast and lunch, boating or snorkeling, etc. Or, are you wanting to relax in quiet without being bothered or overwhelmed by other tourists. (Yes, we do have places like that, but thats why you probably haven't heard of them – they are 30a's best kept secret areas.)
Families:: 
Rent a Beach House. So I put this down under couples as well, but for different reasons. My reasons for recommending this for families is that there are so many options directly on the beach – which makes for easier access to get to and from the beach with everything us parents are lugging around. It is also great to be able to go back inside for nap time, lunch time or even just to use the bathroom in privacy and not in wet, sandy, public bathrooms. If you are looking for a more affordable option there are still so many that are within walking distance of the beach and there are some hidden gems above the shops in seaside, rosemary beach, etc. They are up private elevators so there will not be anyone else on your elevator. They are still enormous and over look Seaside, Watercolor, Seagrove, etc. and sometimes you can still see the gulf from them.
The Pointe on 30a. The Pointe on 30a could honestly go in either section. We have stayed there with and without our kids and were all extremely pleased every time. It is not a resort geared towards children by any means but it is absolutely kid friendly with the enormous pool and the floats they typically keep floating around. The cabanas are perfect for couples to relax with a little privacy but also for breast feeding mommies or napping kiddos. Its not a place you will see kids running around everywhere but the kids are absolutely more than welcome and the rooms are huge with full kitchens so you can easily stay there for an extended period of time and cook in them as well! The Pointe is more like a condo with a hotel feel, and by far the nicest, cleanest and newest condos you will find for rent on 30a! Plus, their furniture selections, garden tubs, and large balconies are on point! <<This is my fave place to stay and the place I recommend most! Oh, and they have a service that will set up beach chairs for you as well as free bike rentals. It is a little walk to the beach but it's right across the street from 30Avenue and just a block away from Rosemary Beach. You can read about two of our stays at The Pointe  here and here.
Watercolor Resort. I have never personally stayed here but from vacationers that I have spoken to around here – they seem to really love it. There is dining on property as well as room service (like most hotels). To be honest – it sort of seems like a glorified hotel room in an amazing location. But if you are looking for access to seaside, watercolor and even a quick bike ride to Grayton Beach, this is a great option. I have to be 100% honest – I have been to their spa one time. I wasn't impressed. I feel bad saying that but I want to give you all a fair heads up!
Couples::
The Pearl. Ryan and I stayed here for our anniversary the first year we moved here as a little staycation. It was amazing and it's perfect for couples but I would not recommend it for anyone with kids. Kids aren't allowed at the pool (which is fantastic for couples but not so much for parents). We loved the butler service at the pool, the spa and our room. I will say – fair warning. The bathroom floors are SO slippery when wet. This is kind of a strange tip I know, but I will never forget falling and busting my booty after getting out of the shower!
Rent a Beach Condo/House. This is best if you are staying with multiple couples or your in-laws and need a little more space. We have places to rent all along 30a. If you are looking for a more quiet stay look around Blue Mountain Beach, Dune Allen Beach or anything west of Grayton Beach, really. Grayton is the last of the really busy areas except for right at Gulf Place. Gulf Place used to be one of our hidden gems but it has picked up in popularity very quickly over the past few years.

Where to Eat:
Families:
30Avenue – Amici 30A and Barbacoa Mexican Grill are our favorites with the kids!
Cowgirl Kitchen – Ryan loves their pizza and I love their tacos and salad!! Their home made dressing is amaze!
The Bay (off of 30a but worth the drive) – Go for dinner (not lunch) and get the sushi!!!! They have lots of "beach" space on the bay for the kids to play around on while waiting for your food!
Great Southern – The grits-a-ya-ya, fried green tomatoes and mojitos are unbeatable! My fave mojito is the guava!
Taco Bar – Get the carnitas burrito!
Pizza Bar – Their kale salad is the best kale salad I have ever had! Also have loved every single pizza we have tried!
Seaside Food Trucks – The Meltdown and Barefoot BBQ are our two favorites! You can eat at the picnic tables by the airstreams, take it to the grass or even to the beach!
The Wine Bar in Watercolor – Their kids pizza is the same size as the personal pizza and half the price! They have one of the best kids menus on 30a. Also, they have a great happy hour everyday 11-6. Carafe for the price of a glass!
Chiringos – Their burgers are so good! Plus they have a little grass area to the side that the kids can play on or lay in the bean bags!
Craft Bar– Their Mac n cheese is on another level and one of the best beer selections in town!
Shunk Gulleys (downstairs)- Brand new but gorgeous all white interior with large glass garage doors that open fully on warm weather days but also close when it's too cold or hot out allowing you to still see the beach!
Stinkys – I have yet to find anything to rave about to be honest. It is all good, but never had anything to write home about. It is a locals favorite though, so may be worth trying….just to say you did.
Couples:
Paradis – I have never had anything on their menu I wasn't absolutely dying over! Hands down some of the best food on 30a and worth the price for a romantic date night! Their Moscow mules are the best in all of Santa Rosa Beach – if you sit at the bar, ask Jeff to make yours!
Havana at the Pearl– We have been here for our anniversary 3 times. 2 of those times were AMAZING and some of the best food. One time was sort of a miss – I was also pregnant so I don't know if that had something to do with it. It is absolutely a great date night place but wouldn't consider it kid friendly. The bar is super cool and Cuban inspired. It's a swanky place to go grab a mojito, martini or old fashion.
La Crema– Cheese and Chocolate fondu. Enough said.
30Avenue– We still love Amici 30a and Barbacoa but also love a date night at Cuvee 30a when the kiddos aren't around.
Cafe 30a– Great seafood selections while still being comfort food! They have a good happy hour but the wait is so long in the summer we tend to only go in off season months.
Bud and Alleys- I always get the grilled fish of the day sandwich! The view is insane! The stairs are too tempting for kids to want to go up and down repeatedly, which is frustrating for parents and why I put this one for couples over families.
45 Central – Tapas and wine bar! So many wine options, get their tuna tartar, Brussel sprouts, sushi or anything really! It's all so good! – Not a ton of options for pregnant women, just fyi!
Red Bar – If you like casual, grunge or loud music. This is your place. In my opinion, it is too loud and too dark to be kid friendly, but its a classic on 30a that you need to try at least once.
Grayton Seafood – It is casual enough to be kid friendly but its very small and the tables are close together so not the best with young children. Their brunch is so good tho, so we make it work even sometimes with the kids!
Trebeache – I love their brunch menu and they have bottomless mimosas on Sundays! Not in love with their dinner menu but there are a few good options on there for everyone! We love their brunch tho!
Shunk Gulleys (upstairs)- This is more of a bar atmosphere with a little bit better view of the water. Tall tables are not practical for young children so if we have the kids we sit downstairs.
The Vue – One of the best views and brunch menu's on 30a and their dinner menu is so good. It is white tablecloths, so not technically kid friendly. We have taken the kids before when we could sit outside and it was still kind of a pain because there is a pool right next door they kept asking to go in. So, that is why I recommend it for couples!
We have so many more great places that are not on 30a, but I would literally be writing for days. So, while your here make sure to check out my favorites!

Where to Play:
Families: 
The beach – Obviously.
Seaside Square – So many places for the kids to run around. The farmers market is so fun on Saturdays and the square is packed with kids playing!
Alys Beach – Don't forget to go early and score some Charlie's donuts. They sell out quickly in the summer! Also, if your staying in Alys, make sure to grab coffee at Fonville Press!
Watercolor boat house – rent paddle boards, kayaks, etc.
The Hub – They have sporting events or movies on the big screen tv almost all of the time. Grassy area for kids to play as well as a cute little ice cream shop. Also, shopping for mom and bars for dad!
Gulf Place – Several bars, restaurants and shops. Oversized grass lawn that has live music on Sundays!
Couples:
Neat – Tasting room and bottle shop. Perfect to start off a date night.
Caliza – I have never actually sat down and had dinner here but I have been to countless events and eaten at those and the food is always amazing. In general – it's just gorgeous and great place to go grab drinks!
 
What to do:
If you are a regular traveler here, you know what I mean when I say Seaside, Rosemary, Alys, Seagrove, Grayton, etc. If you are not, you are probably like what the heck – I thought she was talking about one location. Well, I am, kind of. 30A referred to as Highway 30A or Scenic 30A is our scenic highway that runs along the Gulf of Mexico. It is broken up into little charming towns, some of them just a few blocks long. So, that is why I mention visiting places in each of these separate locations. So what to do?
Explore each town. You can do this by car, bike, or most of it by foot. One of the things I LOVE about where we live is there is always people out and about and being active everywhere!
Watch the Sunset. Honestly, my favorite thing to do in the world is go down to the beach with our family and a cocktail. Watch the kids play and watch the sun set. We have some of the absolute most gorgeous pink, orange and purple sunsets you will ever see.
Take a walk. Did you know that you can actually walk around with open containers in a lot of our towns? Not important to people who do not drink alcohol, but for people that do – it's a selling point!
Eat ice cream. I am pretty sure we have as many ice cream shops on every corner as LA has Starbucks.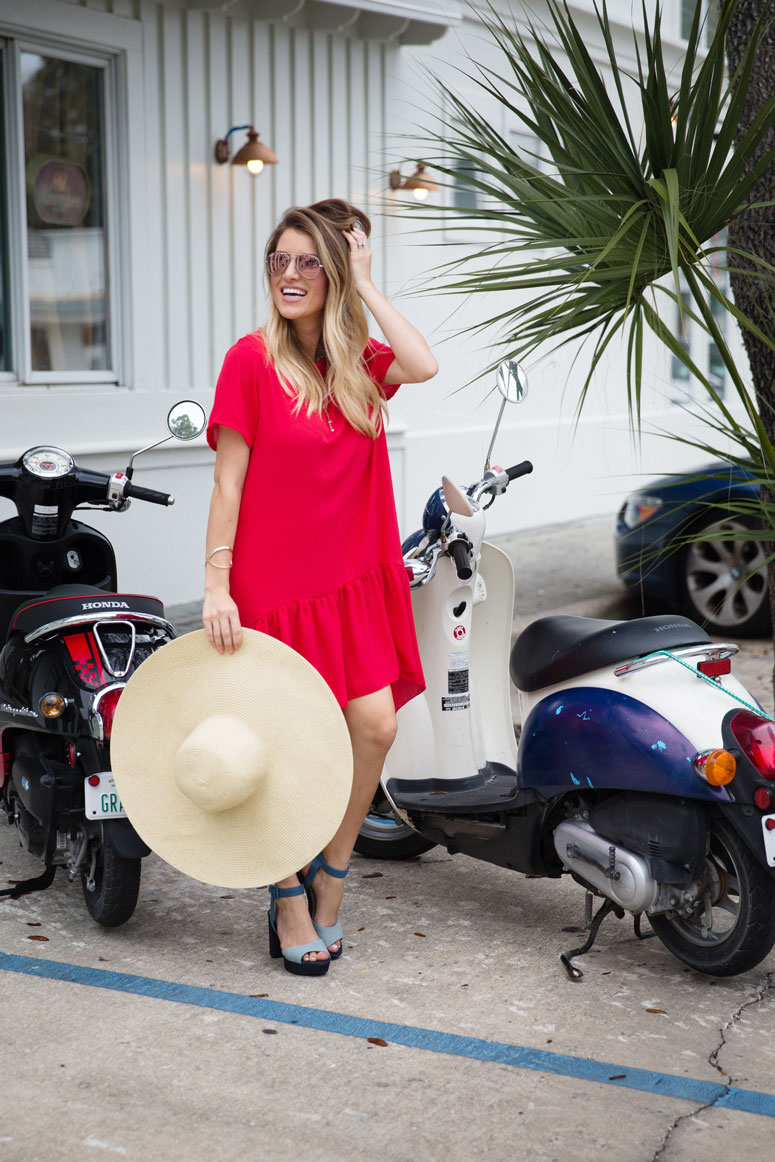 Photos by Jacqueline Ward Images, Jami Ray, and my hubs.