Hi friends! So I actually wrote this blog post last night and woke up this morning and deleted the whole thing and am starting over…and here is why…
I got another DM (direct message, for those who don't know) on instagram last night that I read this morning. I get a lot of DM's – questions about my lipstick, my haircut, my top I am wearing, where my favorite places on 30A are for vacationers, etc. Lately, I have gotten a lot of messages about motherhood – so many of you are wondering "how I have it all together with three kids." Well I am here to tell you – I don't. Ask my husband, my mom, my girlfriends.. am I drowning – no..but that doesn't mean I haven't felt like I was in the past. || I had terrible postpartum depression after having, Braydon. ||There is so much more to what goes on behind those little instagram squares, and blog posts of us all happy – even though the boys are at the age that there are some days they just don't want to smile, and thats okay – THEY ARE KIDS!
So what do these DM's say? Well, last night's read: "Can you talk about your day to day routine?!  I feel like your boys are always going/you seem live you've got it together!!!" …. it goes on to talk about her life. First of all THANK YOU for thinking that, you are so sweet. Second, thank you for reaching out. My answer? Mama – I do not have it all together by any means, but that is all you see on social media because who wants to film their 2 year old when he's pitching a fit over which pillow he gets to lay on, on the couch.  Or my 5 year old crying because his brother ripped the leg off of his batman. I only film and take pictures when life feels a little more easy and happy. At baseball games, at the beach, at the park, on walks, out to lunch. You see us out to lunch – but you don't see Charli crying and me having to get up from the table and walk around to calm her down. I have sometimes filmed the boys getting upset or Charli when she's a little fussy, so it seems like I have it down – but that's just because I haven't hit my breaking point yet. I will say this tho – I have found my life is much easier if I take the boys out, do things, get them exhausted. They do sleep much better (although Braydon is getting up twice a night lately because "he's scared of monsters"). But they are kids, they are boys, they are both 5 and under and they are WILD!!!! So I feel like its so much easier on Ryan and I in the evenings to get them to lay down and watch movies if they have been busy most the day! Plus – it leaves less time for fighting over pillows on the couch – lol
Another question I get – literally almost daily – "how do you stay in shape?" My answer: I am not! I HATE working out…I, on the occasion, do little 20 minute workouts at the house but those are far and few in between. I will say – I sometimes get on kicks that I want to work out and get in shape but unfortunately it only lasts for me for a few weeks then I am over it. I know, no one wants to hear it but I am naturally thin – at least to this point. My grandmother keeps telling me it won't last forever, I keep hoping she's wrong. lol. But that being said – I have lots of insecurities about my body, just like you do. I hate my chest after breastfeeding and I feel like I can never loose enough weight or loose skin in my mid section. The only thing I do to keep active on a daily basis is raise 3 kids. I rarely sit down – even to write this, I am standing at my kitchen island, chugging coffee.
My point of this post is, I don't want you guys to think that my life is "perfect" or that I have found the secret to life – because I haven't, and I don't know that there is one. I have full control over what you see on my instagram, blog and insta stories. So of course, as I mentioned – I am not going to show you guys the raw and ugly.
I will say, I go too many days without washing my hair (which I probably call myself out for more than I should on instastories, lol). I sometimes don't brush my teeth until noon (gross, I know).  I currently have spit up on my shirt and a snot on my pants from two sick kids. My living room is ALWAYS a mess. I drink too much wine on Friday nights on our back deck with my husband after the kids are asleep, to receive stress. I am about to head to the pediatrician with Braydon after I drop Walker off at his first day of preschool in a week since he's been sick in the same yoga pants I slept in last night. That is – unless I sneeze and pee myself before then – because, yes that happens too after 3 kids!  It is life, it is mom life. And most of the time I am exhausted with too much concealer under my eyes to try to cover it up. But its my life, and as exhausting as it might be some days – I wouldn't have it any other way!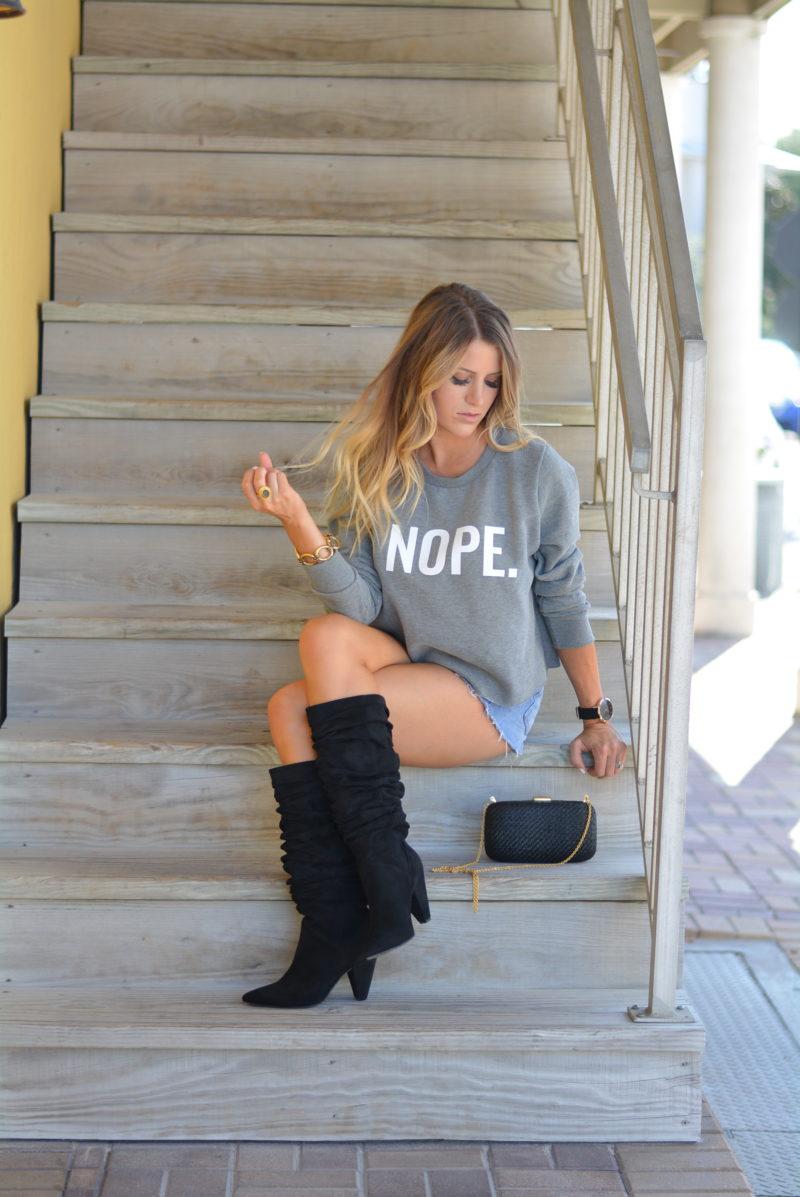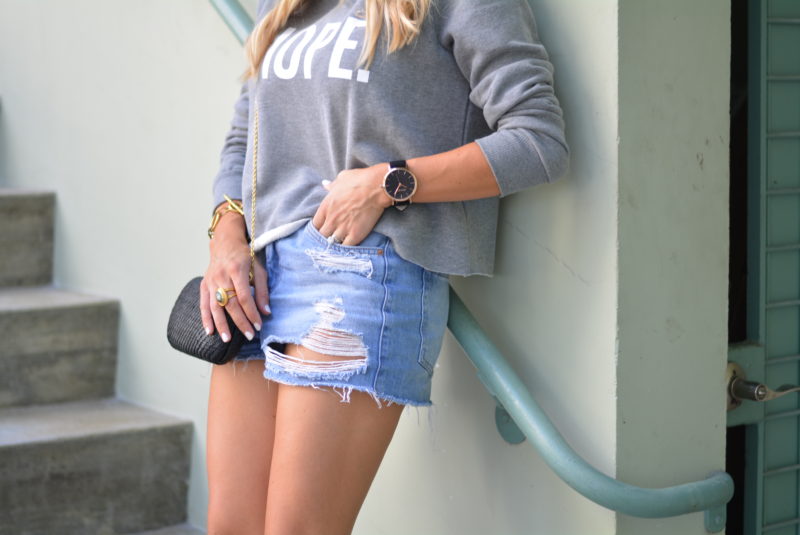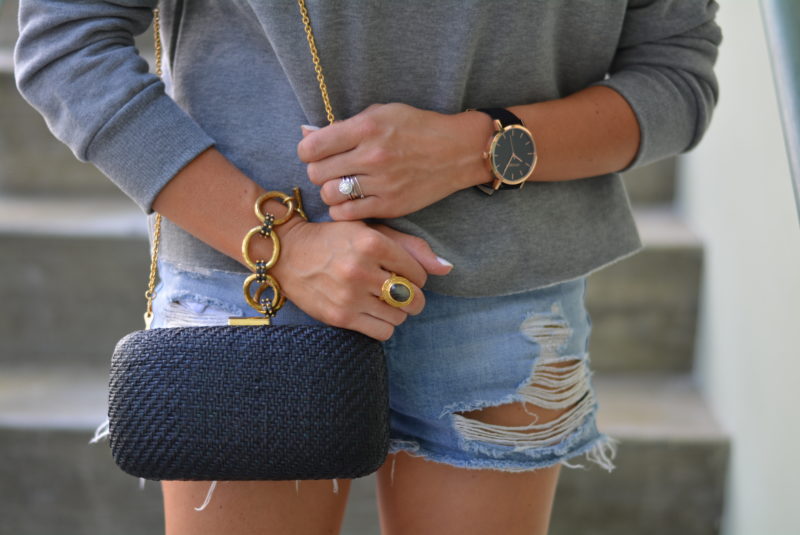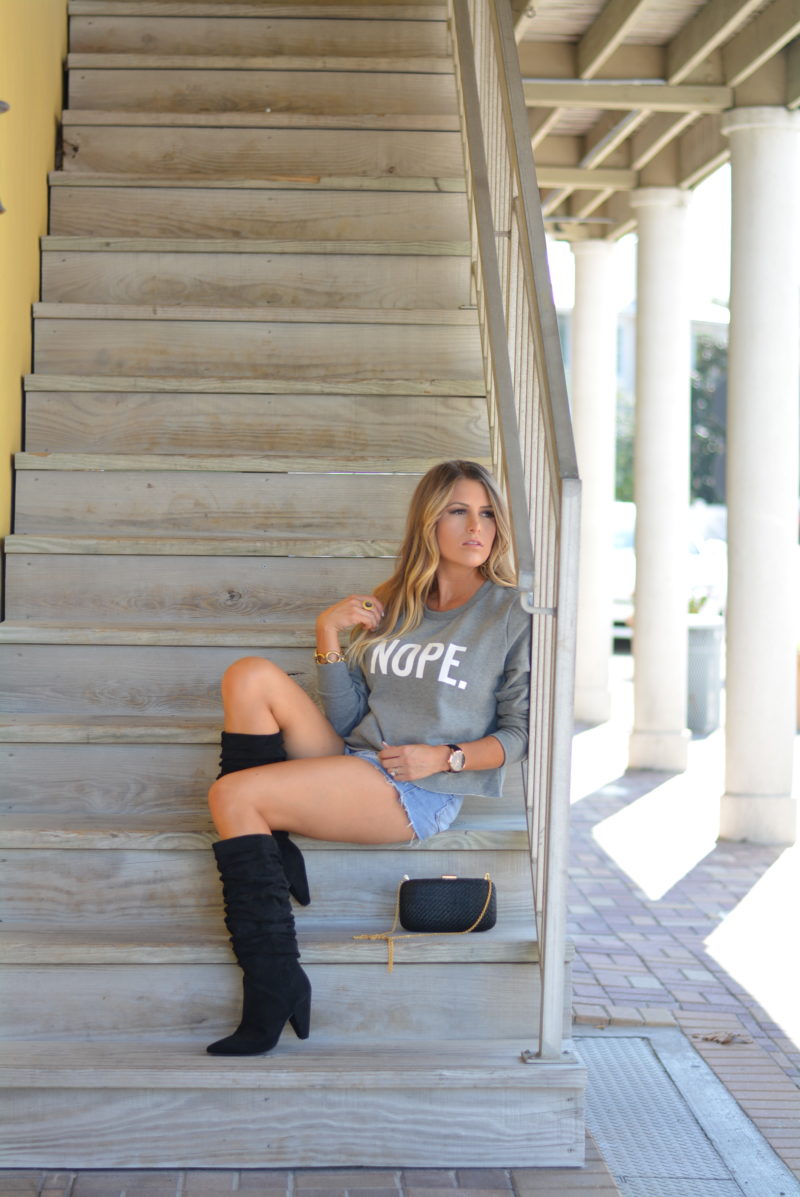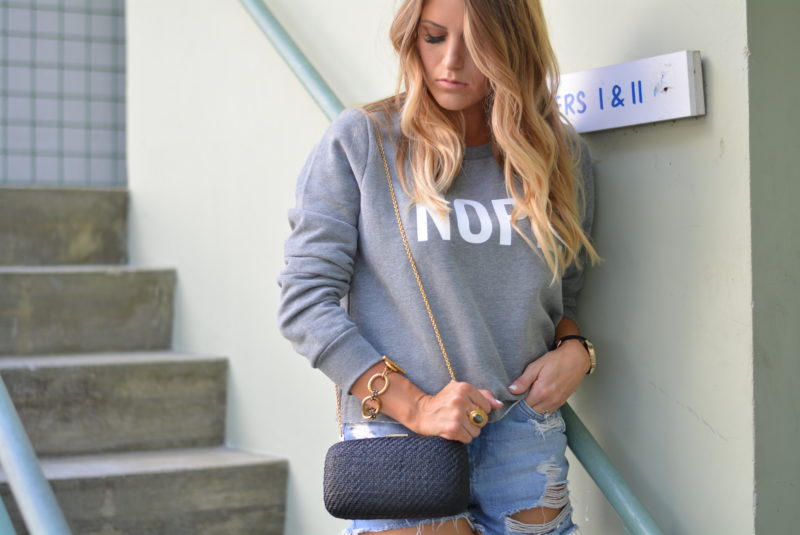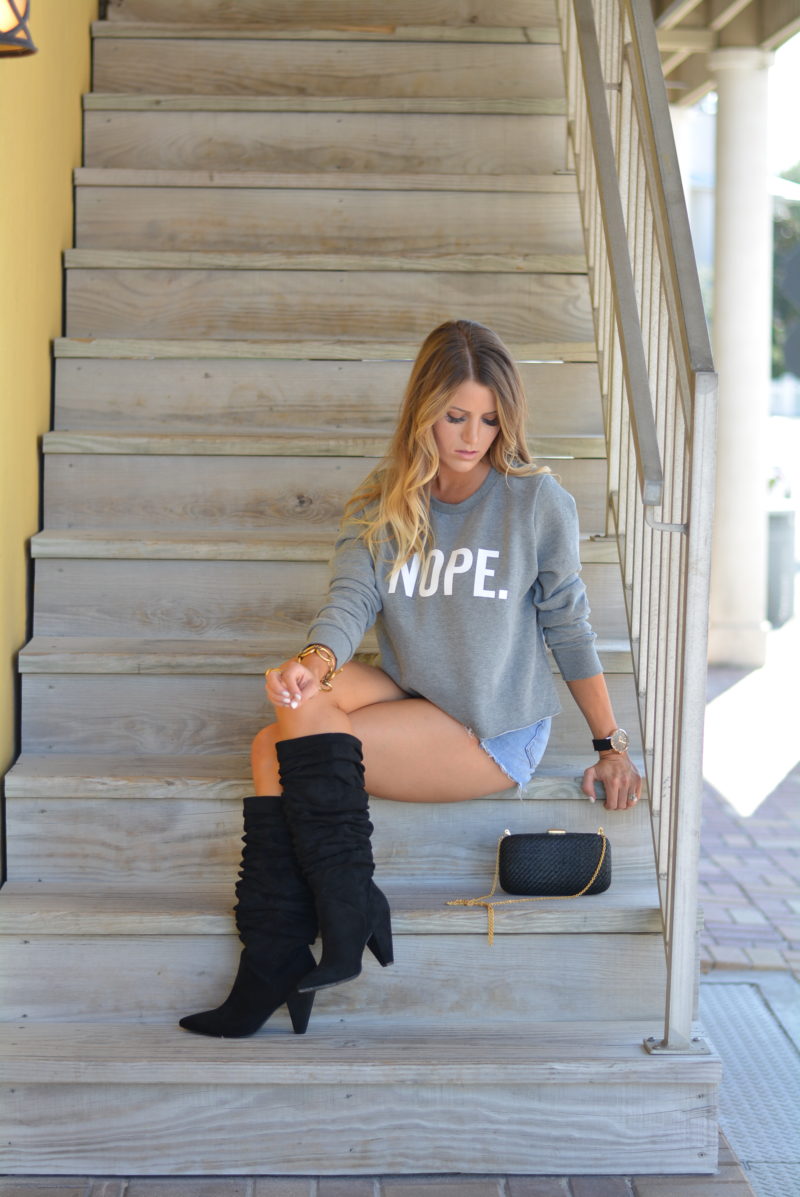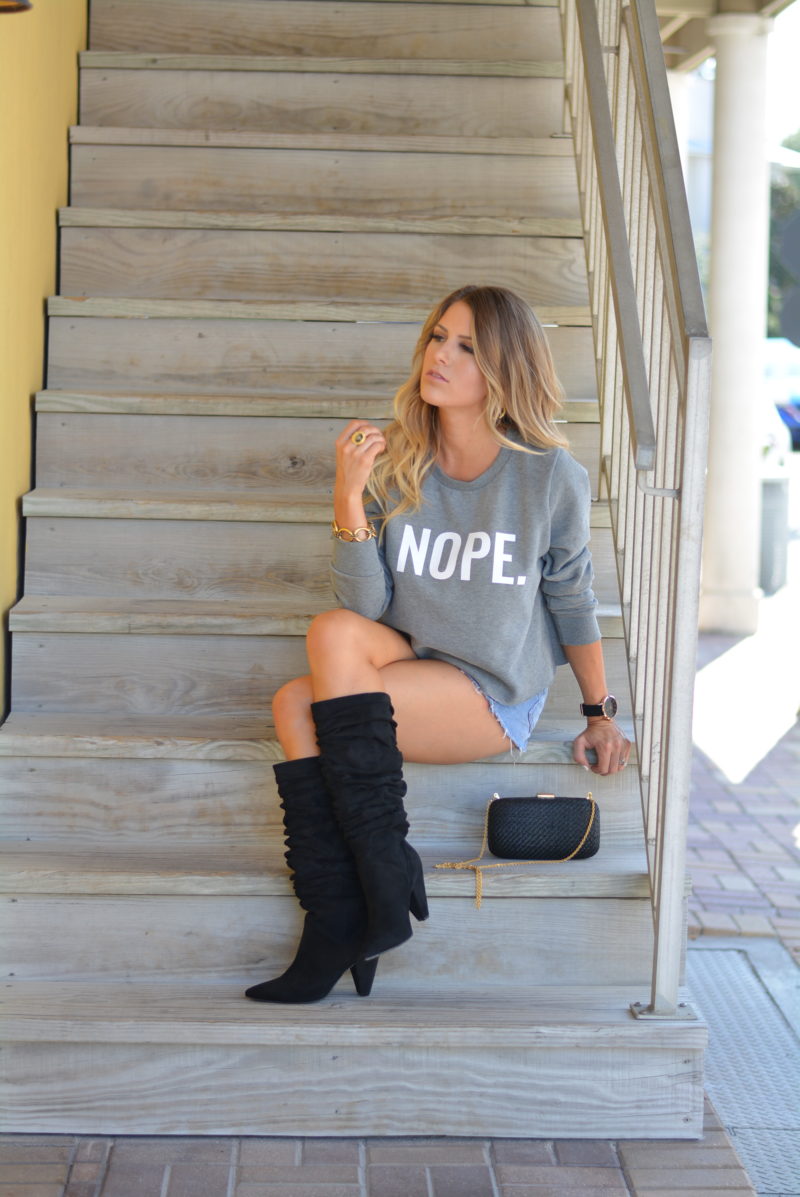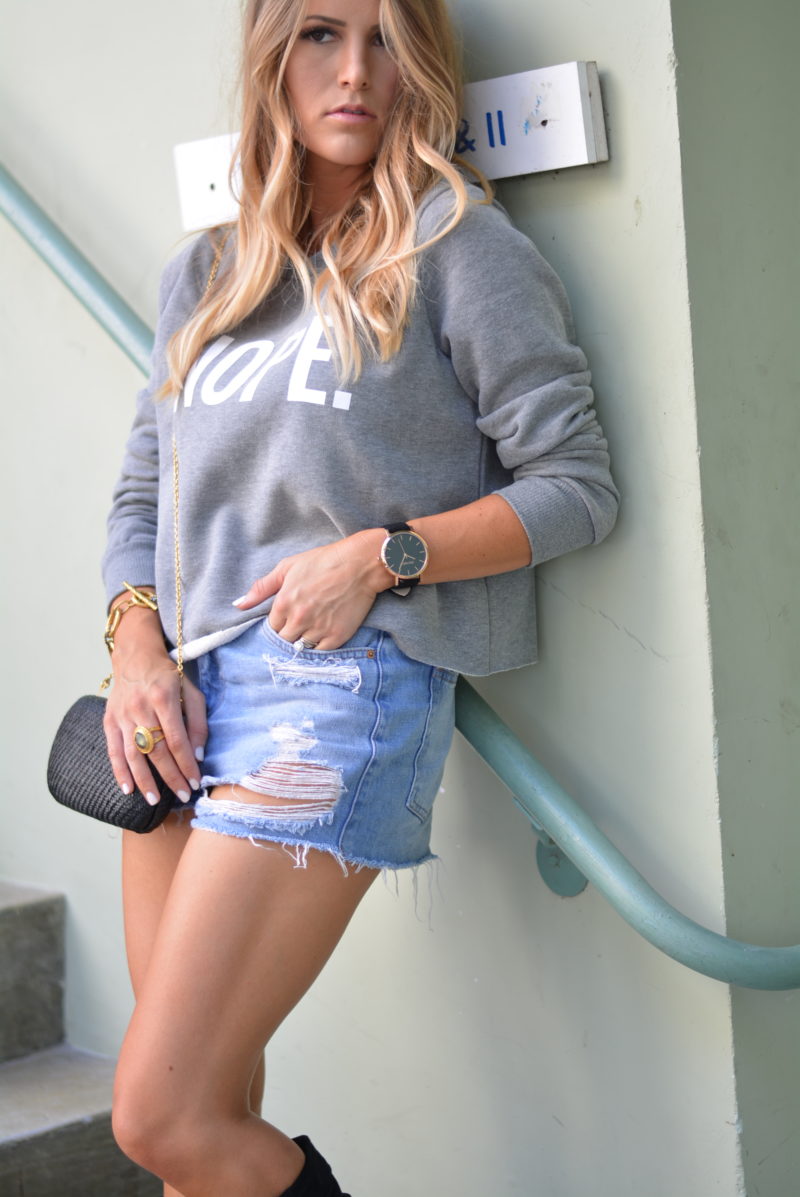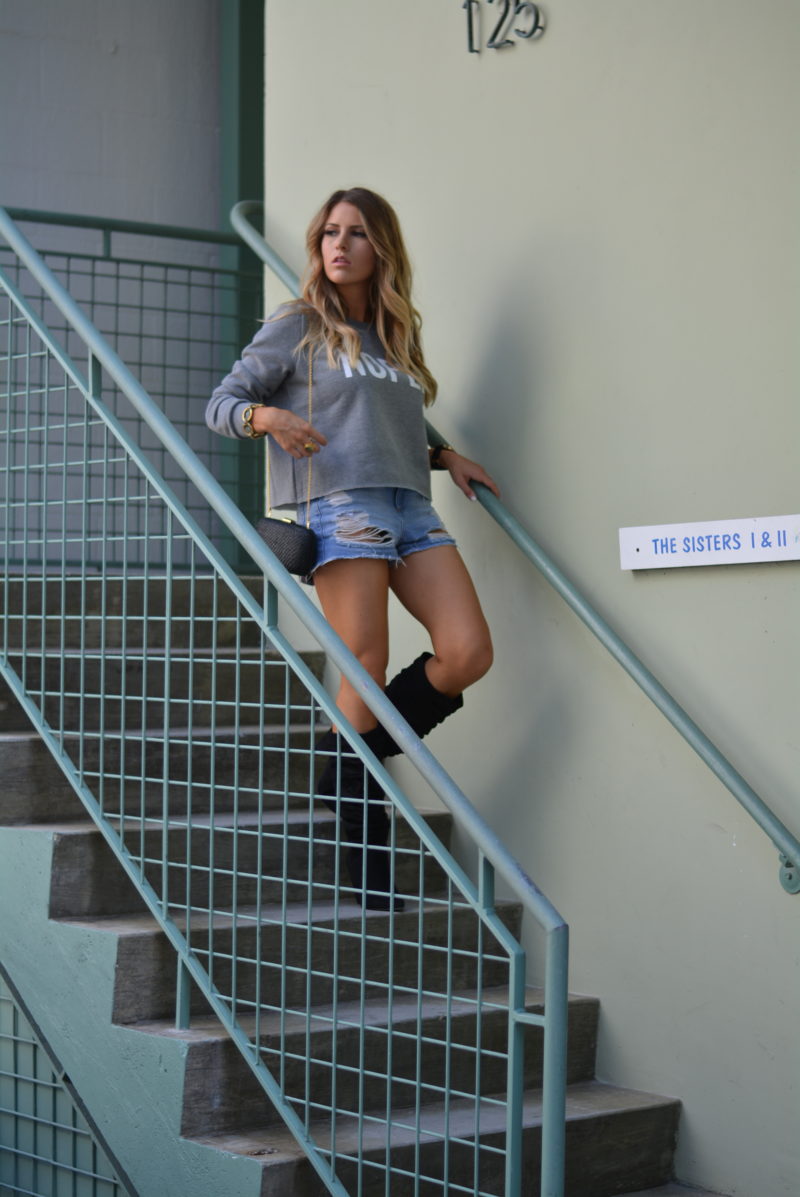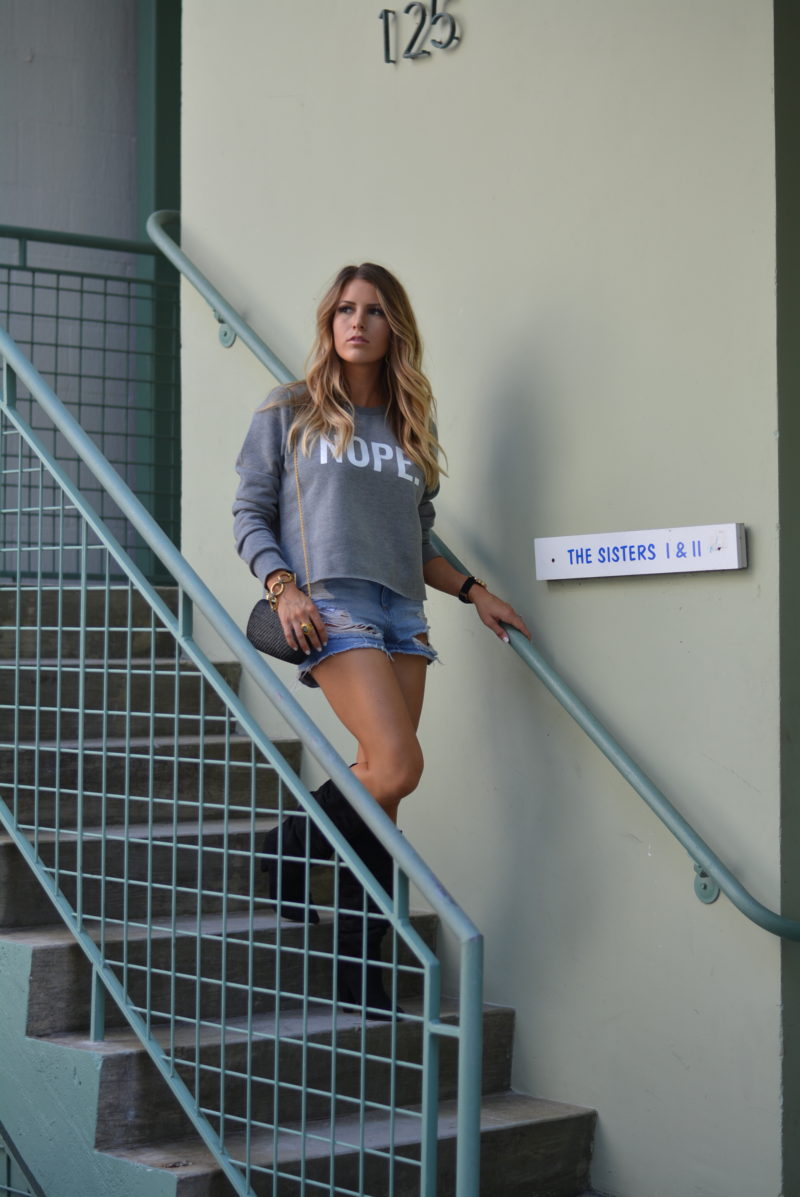 Sweatshirt | Clutch | Shorts (mine have shrunk – size up one size) | Boots | Bracelet | Watch | Earrings | Ring |